Jessie (Nithinan) Boonyawattanapisut, Chief Executive Officer of HotPlay and game industry veteran recently got the opportunity to sit down to discuss with The Lean Company once again, on topic "Diversify and Conquer: How to market to the stay-at-home consumer in APAC".
The virtual panel discussion was joined by two other speakers namely; Yvonne Lim, Director, APAC eCommerce (Dole Sunshine Company) and Cindy Deng, Managing Director, APAC (App Annie).
The discussion went on to cover several changing post-pandemic trends and the strategies that brands and agencies have to adopt in order to succeed in the "new normal" world. Please see exclusive excerpts of what Jessie had shared in this session below:
Q. How has the pandemic and being in "lockdown" have an impact on consumer values in interacting with brands?
A. What I have observed is that being isolated during the lockdown period could deprive people from physical interaction. It also prevents them from being socially and physically influenced. Therefore, the majority of the purchasing decisions during these past years have been made online.
The interaction between brands and consumers have become very limited or have boiled down to just a pure transactional action. Many times, the demands are only driven by necessity and price.
Therefore, I think brands need to adapt to this important change of consumer behavior. We can see that if this particular trend continues to go on further, brand loyalty of goods and services can be negatively impacted.
I would suggest brands to become more creative in connecting with consumers and try to remain on their top of minds. Brands should seek ways to maintain long-term relationships with their consumers by creating mutual values that both parties will benefit from.
Q. Let's talk about the buzzword, "the metaverse". Marketing in the metaverse, where are you in this terminology?
A. The pandemic has fueled the adoption of all online activities. We have seen a significant increase in digital literacy, especially when it comes to online purchases. And when people spend a great amount of time online or sometimes called 'the virtual world'. It becomes inevitable for creative industries such as gaming to help connect entertainment to commerce, which ultimately can create real 'transactional values'.
The game industry itself has already been growing at a remarkable rate before the pandemic. And the reason for playing games is no longer just to kill time, but as a means to connect and socialize with friends and families.
People have adopted the mindset that if you cannot do something in the real world, then you might want to do it here in the virtual world instead. What special is that the gaming world has the ability to create another world on its own, and it can lend its spaces to e-commerce activities.
In the "metaverse", people can socialize and hangout, get influenced and do their online shopping. There are already 2.9 billion people playing games today, and it is projected that the number can expand to be at least 3.5 to 4 billion by 2025. And naturally, transactions will follow wherever people are. We are seeing big companies making moves to be part of this mega-ecosystem. I can personally see this trend becoming much more real in the next three to five years from now.
Q. How big is the gaming industry? And how can brands get into gaming?
A. The revenue that the gaming industry has generated per year is around USD 120 billion, and about one-third of which came from advertising. However, most of the advertising within the gaming industry today is still being presented in the forms of popup ads, banners and rewarded video ads. These types of ads are often considered to be annoying for gamers, as they usually become very captive and do not want to be interrupted during their gameplays.
I am seeing tons of blue ocean here, where brands can tap into the gaming market and convey their messages to their target consumers. They can try to communicate, get in touch and create a real relationship with this group of people.
In-game advertising, especially those that would not interrupt the gameplays will become very popular and take a significant market share in terms of advertising spend away from popup and banners. Brands should consider using the types of in-game advertising that are non-interruptive and can seamlessly integrate into the gaming environment.
For more information, you can find access to the full webinar recording below:
As more and more of us are now using smart devices to consume media, which allow us to skip TV commercials, or paying for ad-blocking software, the question becomes "how does a brand get its message across to their target audience?".
Let's learn some of the key benefits than game reskinning can help your brand🡪 place the link here
Read More »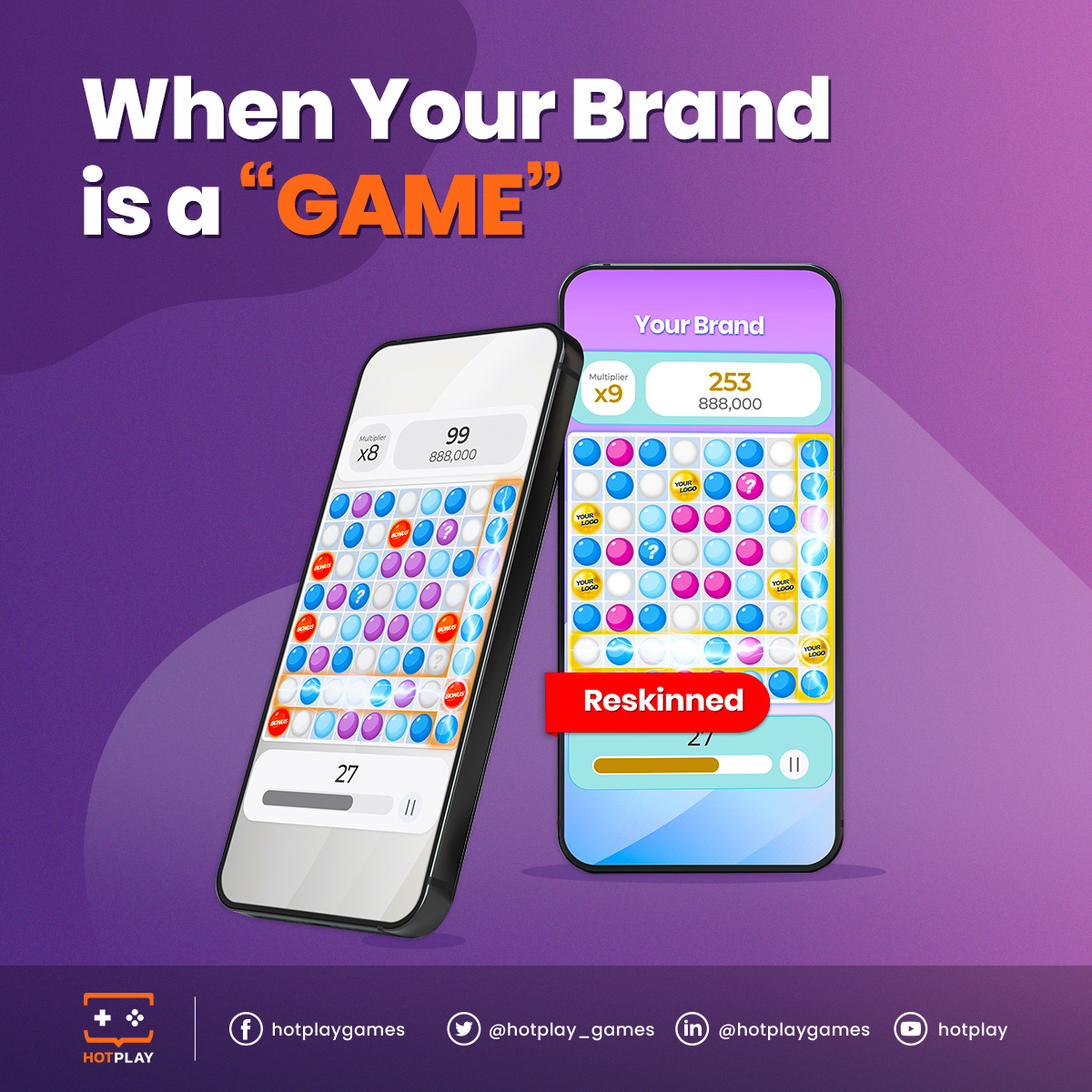 What if we can make our brand a 'game', and then keep people coming back to play over and over. Branded games are just a perfect solution for you.
Let's apply game design philosophy, throwing in tricks and techniques to keep your target audience engaged in a meaningful manner 🡪 place the link here
Read More »
Pandemic has fueled growth in the virtual world, and gaming is undoubtedly one of the beneficiaries. We have already seen big corporates jumped into the sector. But opportunities out there are not only for the big brands. Let's drive into why we think this is also the good time for small and medium-sized businesses to get their foot in the game. 🡪 place the link here
Read More »