Previously, we have discussed a lot of alternatives as how companies can be part  of the lucrative gaming industry. Be there in the form of in-game advertising,  coupon ads, sponsoring gaming competition event and so on. But there's another  interesting immersive experience on the horizon, which is 'branded game'. In this  article, we will try to understand what branded games are, and how they are helpful  in boosting content marketing. 
When we looked at possible ways for brands to start connecting with the gaming  world, some approaches can be more speculative than others, while many may  appear to be too futuristic at this point. However, branded games appear to offer  exciting new waysfor brands to step in and engage with a captive gaming audience.  The opportunity seems just about 'right' both for the time being and what it has to  offer.  
Let's start from understanding what exactly are 'branded games'. Branded games  are games which contain an advertisement in some way, shape or form, specially  crafted by brands for marketing purposes. They serve the purpose of engaging the  audiences in a meaningful manner. In today's world, it is one of the most effective  ways to lure in visitors and convert them into potential customers.  
Asked how branded games can help increasing your content marketing potential,  first is because this type of marketing comes with a high cost-value ratio. Additionally, they allow data analytic to be applied which can help to extract  important and interesting insights from the target market. Once, we know more  about our audience, we can craft the right messages to fit their interests. Branded  games exploit the use of interesting gaming mechanics, helping customers spend  more time playing the games and in turn associating with the brand and ultimately  lead to higher retention.  
Or in other word, branded games exhibit an engaging and fun communication  channel which blurs the line between marketing and entertainment. Several used  cases showed that an entertainment and personalized gaming experience creates  a positive emotional connection between customer and brand. 
To picture it clearer, one of easiest ways for brand to be able to have its own game  is through "game reskinning". This refers to a place of replacing the game artwork  with a branded element to produce a completely new game. Advertisers are  allowed to use key customization services which include adding brand logo,  changing background, brand color and theme to fit the brand identity. The  relatively high production cost of advertising via traditional channels contributes to  the increase in digital ad spending, including game reskinning. This method has  become more popular over these past recent years. The budget and time spent on  creating the game through reskinning were much less than that for developing a  game from scratch.  
It is a way for brands to be able to tap into all the talent, energy and resource that  the game designers and programmers took to spend building a game from the  ground up, without having to hire them yourself. Game reskinning allows brands to  gain the benefit from gaming with reduced cost and lower turnaround times. 
However, for some advertisers, game reskinning alone might not be a perfect  solution especially if they look for something in specific from their branded games.  Instead, brands can also choose to create their own hyper-casual game by  partnering with professional gaming agency This is also a good alternative and cost effective way to capture audience attention that will allow brands to be involved  with game creation from the ideation stage to publishing.  
To sum up, there are many ways to promote your brand and create more sales to  your company while at the same time engaging with your audiences in a meaningful  manner. Branded games are certainly one of the most fun and efficient ways to do  that. With this type of advertising, brands can engage more with younger  generations and reach a wider group of audiences, not only in the local market but globally. Plus, creating your branded games will also make your brand stand out  among competitors in the market.  
Let's apply game design philosophy and make your brand a "game", throwing in  tricks and techniques to keep the audience coming back.  
Please visit HotPlay for more information. 
As more and more of us are now using smart devices to consume media, which allow us to skip TV commercials, or paying for ad-blocking software, the question becomes "how does a brand get its message across to their target audience?".
Let's learn some of the key benefits than game reskinning can help your brand🡪 place the link here
Read More »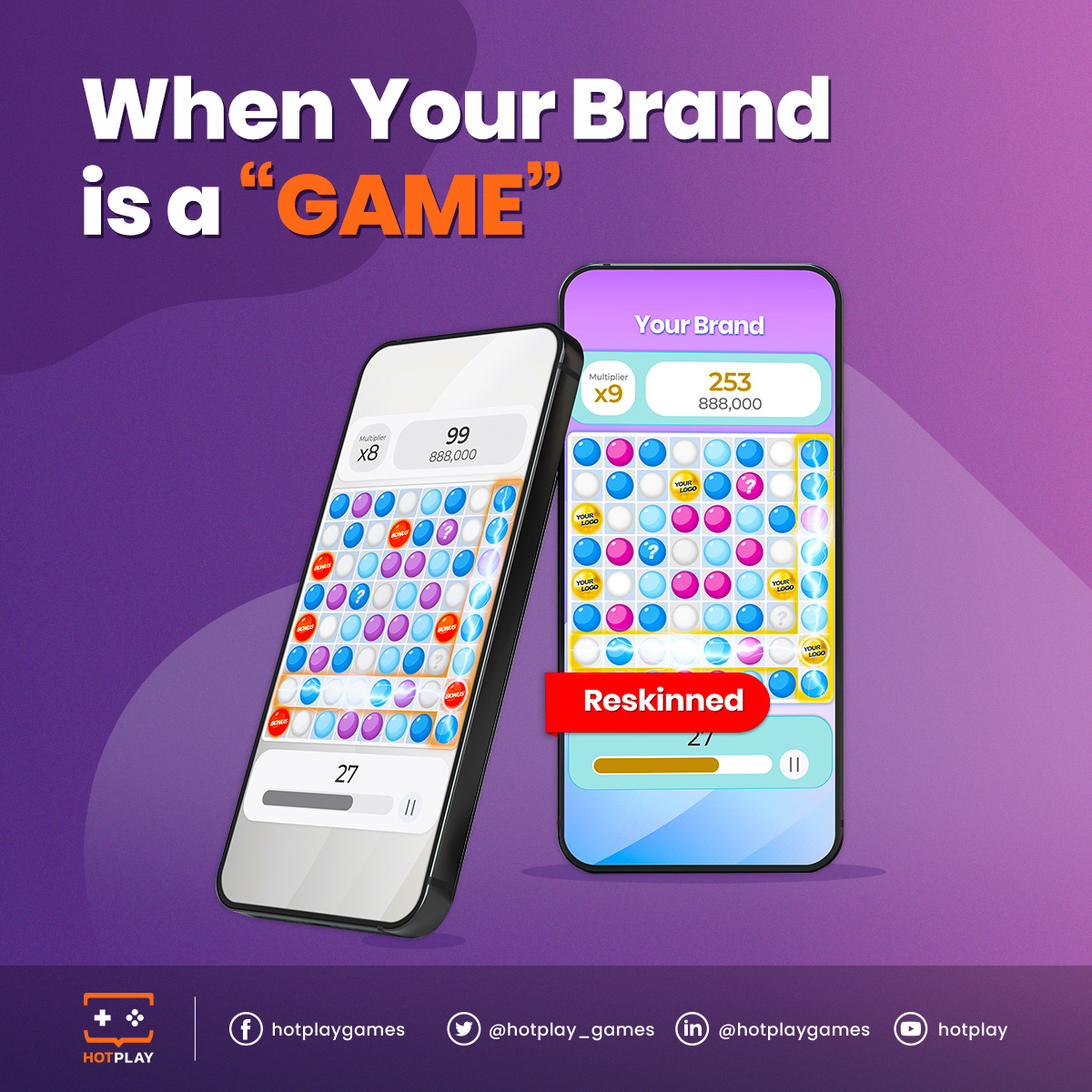 What if we can make our brand a 'game', and then keep people coming back to play over and over. Branded games are just a perfect solution for you.
Let's apply game design philosophy, throwing in tricks and techniques to keep your target audience engaged in a meaningful manner 🡪 place the link here
Read More »
Pandemic has fueled growth in the virtual world, and gaming is undoubtedly one of the beneficiaries. We have already seen big corporates jumped into the sector. But opportunities out there are not only for the big brands. Let's drive into why we think this is also the good time for small and medium-sized businesses to get their foot in the game. 🡪 place the link here
Read More »