Today's telecom operators are facing a threat from shrinking profit margins and plateauing revenue growth. Many of them are forced to seek new innovations and creative ways to enhance their business models in hope of finding alternative revenue streams as well as keeping themselves in a competitive mode from all the disruptions.
The lucrative gaming industry provides an ample opportunity that telcos should not miss. According to PwC's research (Skin in the games), the sector is estimated to be worth almost $270 billion USD by the end of 2025 and is on track to rise even further supported by the 5G infrastructure.
Several benefits can be derived from a successful foray of telco into video gaming be there in term of improving brand positioning, increasing customer loyalty and so on. This article will highlight some of the key advantages that gaming can help telco companies navigating through the ongoing challenges. It also aims to open the doors for the limitless opportunities awaiting.
1. Improve brand positioning
Telco companies should not expect to see visible incremental revenue flowing from gaming in the short term but rather important tangible benefits with significant potential impact for a longer period. The first benefit can be the improved level of brand positioning. Once telco companies associated with video gaming, customer perceptions of the operator can automatically be altered.
Customer perceptions, especially among the digitally adept younger population would see the operator's brand as a provider of exciting and appealing gaming experience. This would make them more receptive to its offerings in general.
2. Increase brand loyalty
The second benefit would be increased customer loyalty. Engaging with gaming means that there will be younger population being drawn and impressed by the operator's new venture. This then may increase their loyalty to the brand, leading further to help reducing customer churn.
Loyalty is particularly important in this era whereby traditional telecom services are becoming increasingly commoditized. The industry is highly competitive and differentiation into a new creative venture is one of the possible solutions.
3. Increase data usage and produce some revenue boost
The overall engagement with video gaming ecosystem would further increase data usage for telco operators. This area is actually the main growth area among operators' core revenue streams, hoping to help offsetting declining sources of income from other streams such as voice calls. This is proven through the statistic which shows that mobile gaming currently leads all gaming categories in value, and also in average revenue per user (ARPU).
There are also other ways that gaming can help telco operators increase their revenue by becoming meaningful players in the gaming value chain. It can be done through offering micro-transaction services by allowing gamers to purchase in- game virtual items for small amount of money. These can include both experience boosters and cosmetic items such as player skins. Gamers can then feel stronger connected with such mobile operators as they see that operators are making effort for stepping into a part of their lives.
There are also many other revenue streams can be derived from the gaming ecosystem. Telco operators should seek for the ones that would mutually benefit both parties, or those that will allow further cross-selling and up-selling opportunities.
4. Generate more customer data for improved behavioral analytics
Another benefit that gaming can bring to the table is that it will help operators to get to know their customers better. Growth in customer using gaming related offerings will generate greater amounts of customer's behavior data. This obtained data will allow operators to target offerings and provider an improved customer experience.
As more and more of us are now using smart devices to consume media, which allow us to skip TV commercials, or paying for ad-blocking software, the question becomes "how does a brand get its message across to their target audience?".
Let's learn some of the key benefits than game reskinning can help your brand🡪 place the link here
Read More »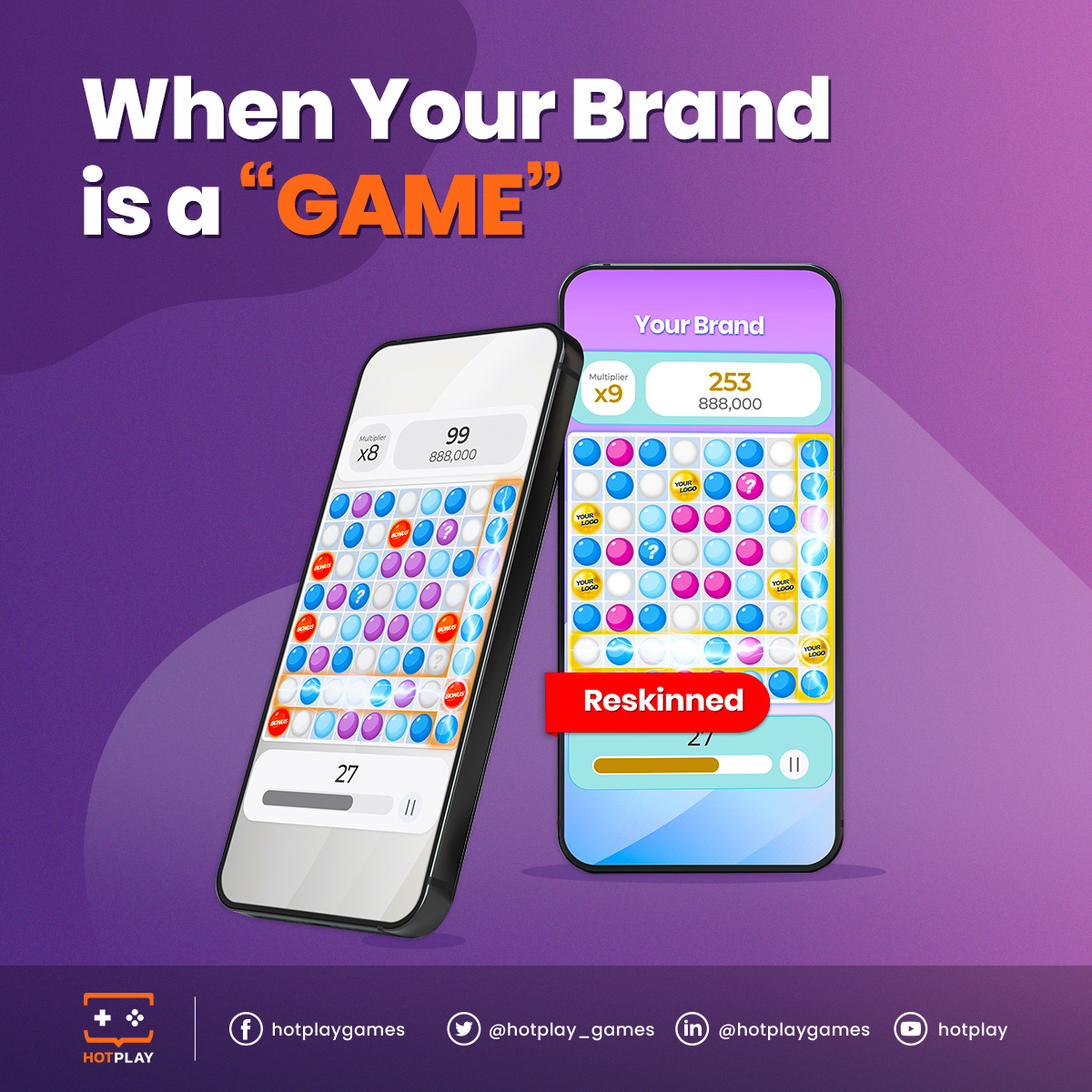 What if we can make our brand a 'game', and then keep people coming back to play over and over. Branded games are just a perfect solution for you.
Let's apply game design philosophy, throwing in tricks and techniques to keep your target audience engaged in a meaningful manner 🡪 place the link here
Read More »
Pandemic has fueled growth in the virtual world, and gaming is undoubtedly one of the beneficiaries. We have already seen big corporates jumped into the sector. But opportunities out there are not only for the big brands. Let's drive into why we think this is also the good time for small and medium-sized businesses to get their foot in the game. 🡪 place the link here
Read More »