Despite the fact that many brands have begun to realize the importance of in-game advertising, there is still a lack of understanding among brands when it comes to building a presence within gaming. Several brands find it is challenging to take advantage of this rising trend, unable to find the right strategies to tackle the very promising opportunity. This blog aims to simplify such a mission by sharing with you four effective ways for brands to unlock the potential of in-game advertising. 
Let's drive into it together!
1. Know where your target audiences are
As we now know gamers represent a unique and broad audience. Brands should take time to understand the diversity of gamers, which results in specific preferences within the gaming market itself. This starts from the reasons why gamers play games. Learning that players who play games have many motivations, from passing the time to finding their purposes and everything in between (learn more about gaming audience). Brands should be asking themselves who they want to connect with, where to find them, and how they are playing their favorite games. 
A strong and clear strategy is crucial heading into such an ever-changing environment. This should also go hand in hand with selecting the right types of in-game advertising products to collaborate with in order to yield the best outcome.  
Sometimes brands can also look to roll out or sponsor a friendly game tournament where players can enjoy playing with their group of circles, creating a small community within the game. Moreover, they might give away some creative in-game products, rewards or coupons as gamer's incentives.  
2. Enable play and participation 
Unlike other types of audience (such as TV, Billboard, Radio), gamers are likely to pay more attention to an ad. This is due to the fact that playing games requires quite a certain level of focus. Therefore, gamers naturally are an attentive audience that are actively spending money and socializing through the channel. Brands should capitalize on this engaging nature of the platform by turning ads into fun and interactive experiences which will help keep their potential consumers connected. 
The winning recipe is to match the right ad with the appropriate audience. The trick is that more and more marketers are now rooting for non-intrusive advertising, as they believe they are the smartest way to get to their consumers. Interactive ads refer to anything that encourages the target audience to interact with advertising, marketing, or promotions. It turns traditional advertising into an activity that encourages the gamers to do something, rather than view the ad passively. The benefits of interactive ads are that they could help brands tell stories, enhance personalization and create lasting impressions for gamers.
3. Be a mobile champion
It is undeniable that in today's world, smartphones are our 33rd organ. Someone can leave their house without wearing a shirt but cannot leave the house without bringing their mobile phone. The same goes for gaming, mobile games are fueling growth for the whole industry (learn more about mobile gaming). If you want to be successful in your engagement with in-game advertising, a well thought-out framework on mobile games strategies must be properly laid out. 
Understanding the differences between each mobile game genre is also important to help push your conversion rate.
4. Be part of in-game economies
In-game purchases are nothing new. We have seen many people spending several dollars to buy virtual goods and this economy will only get bigger. As people's digital identities become more important and more realistic to them, brands must find ways to monetize the digital worlds they inhabit. From virtual malls, virtual buildings, trees, clothes to many things possible, the virtual sky's the limit. 
We are now moving into the territory that is far beyond Pokemon Go, which is the Metaverse.  To stay relevant, brands will eventually need to 'reinvent' themselves to remain in the market. The concept is still evolving but it is on its way of becoming something very powerful. Brands need to closely monitor and be ready to seize the opportunity no matter how it will unfold.
As more and more of us are now using smart devices to consume media, which allow us to skip TV commercials, or paying for ad-blocking software, the question becomes "how does a brand get its message across to their target audience?".
Let's learn some of the key benefits than game reskinning can help your brand🡪 place the link here
Read More »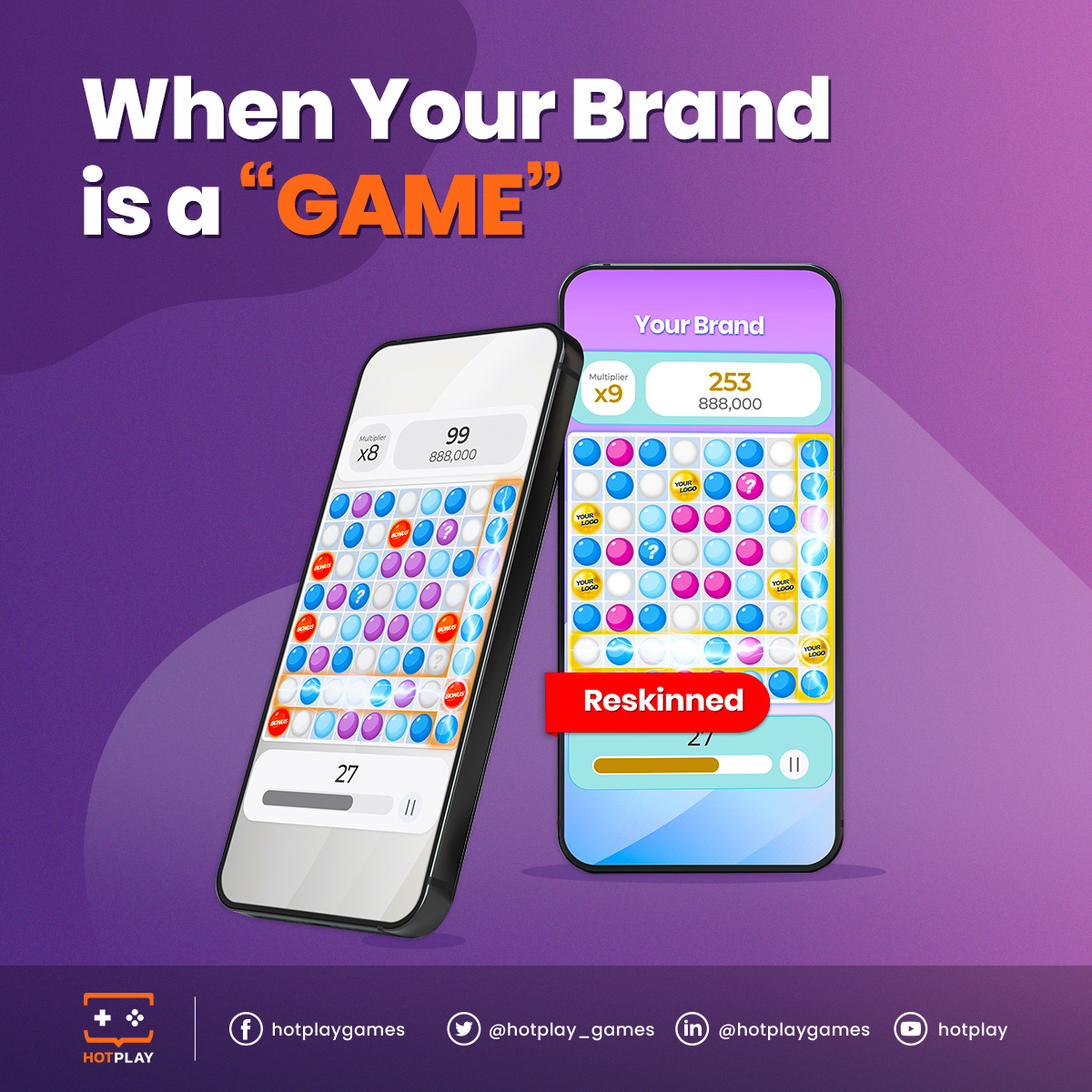 What if we can make our brand a 'game', and then keep people coming back to play over and over. Branded games are just a perfect solution for you.
Let's apply game design philosophy, throwing in tricks and techniques to keep your target audience engaged in a meaningful manner 🡪 place the link here
Read More »
Pandemic has fueled growth in the virtual world, and gaming is undoubtedly one of the beneficiaries. We have already seen big corporates jumped into the sector. But opportunities out there are not only for the big brands. Let's drive into why we think this is also the good time for small and medium-sized businesses to get their foot in the game. 🡪 place the link here
Read More »