We have previously discussed and explored how gaming can benefit telco companies in various dimensions (Key benefits). It's now time to start digging deeper into how telco can actually have their foot in the games. This article aims to discuss three main approaches in which telco companies can do to establish their engagements with gaming. Some may start from exploring one at a time and slowly add on to develop a stronger tie, but others may attempt to use multiple approaches altogether depending on their specific objectives and level of knowledge on the industry. But it is advised that they should progress their engagement steadily and with great caution. 
The first approach is associating brands with gaming, which would not cost a great deal of money. This is perhaps the easiest way of engagement which can yield instant benefit. What they have to do are just creating a soft partnership with game publishers in order to have their brands in the game, or hosting servers for top developers to sponsor gaming events.  Additionally, in-game ads is also an incredible way to boost brand awareness which proven to be very effective. Brands can deliver campaigns that align with each player's interest without disturbing the gameplay (visit in-game advertising for more information).  Once they start associating their brands with gaming, their brand image will automatically be more attractive to younger generation. 
The second approach is to get involved with game development. Yes, this is a little more serious than the first approach. Telco companies can learn to work with gaming industry partners to co-develop and launch some simple games, aiming to make it fun and relevant to their audiences. They can also involve rewards and other loyalty benefits in their in-game offerings to create the stickiness. If they end up enjoying this process, they can eventually develop their own games and compete with other game publishers in the industry later on. Telco can start off from developing a simple casual game, which is a very popular segment and one of the fastest growing categories among gaming. 
The third approach is through investment in eSports, which are actually spectator events in their own right and usually attract great number of audiences. Over the past few years, eSports has taken the world by storm and is on path to undergo substantial growth from its currently low base. Operators can launch events and form eSports teams to compete in the tournament worldwide. We have seen many telco companies choose to adopt this path and become very successful. 
To sum up, there are numerous ways for telecommunication companies to get themselves in the world of gaming. They can choose different approach to play along the value chain, while learning and exploring to find the right strategy that fit the objective. Operators can test their own suitability for the gaming sector by progressing steadily and slowly getting deeper as their experience level goes up. 
One thing to keep in mind is that they should be adept at selecting the right partners, who really understand gaming market inside-out to work with. Telco companies need to formulate an excellent market research and insight, so that they can minimize the risk of exposure. 
Just like playing a complicated video game, at first, we may find that the game is so baffling and difficult to win. But as time grows by, we will start to pass and win some missions and gradually grow our confidence. And from that point on, telco companies would know that their big victory is in sight.
As more and more of us are now using smart devices to consume media, which allow us to skip TV commercials, or paying for ad-blocking software, the question becomes "how does a brand get its message across to their target audience?".
Let's learn some of the key benefits than game reskinning can help your brand🡪 place the link here
Read More »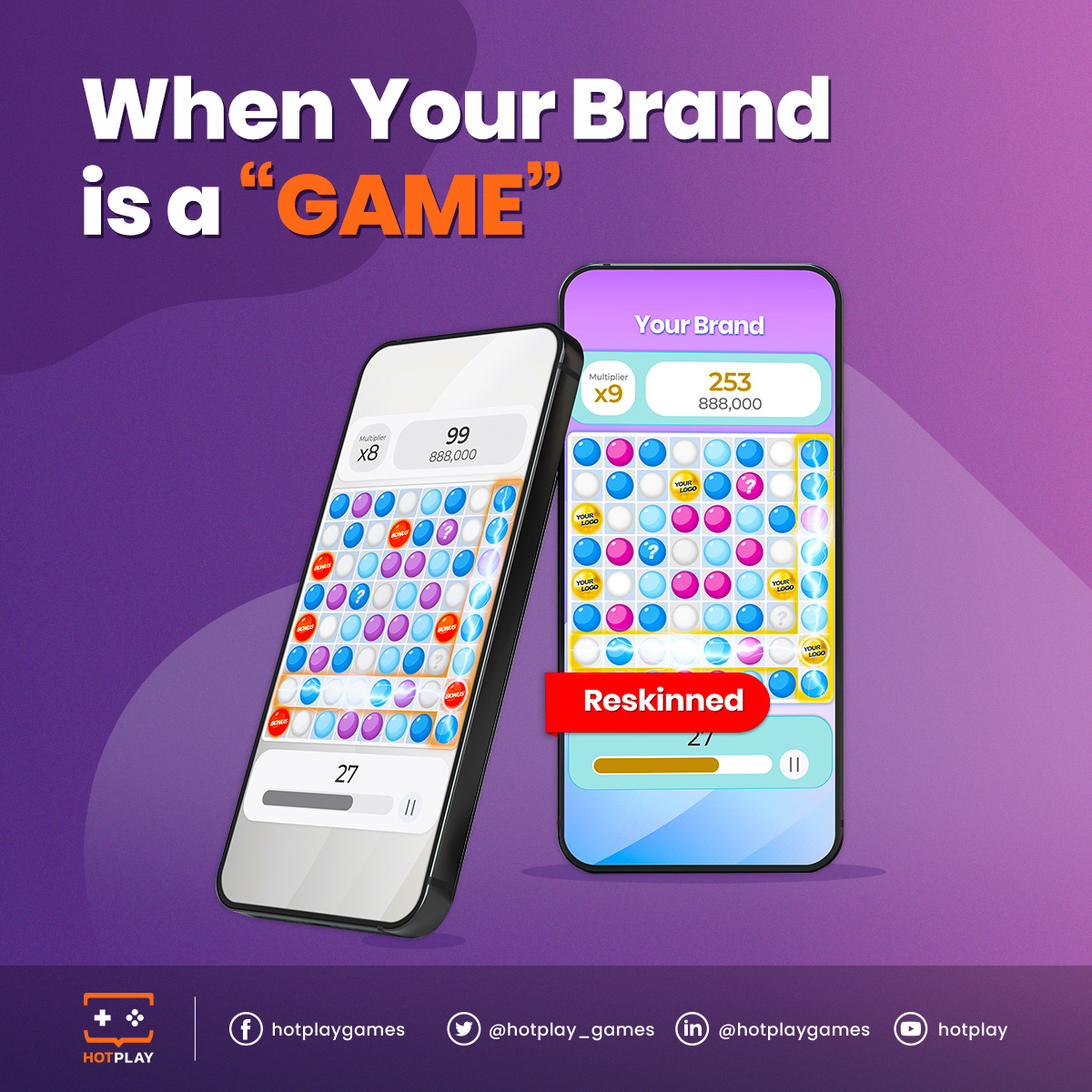 What if we can make our brand a 'game', and then keep people coming back to play over and over. Branded games are just a perfect solution for you.
Let's apply game design philosophy, throwing in tricks and techniques to keep your target audience engaged in a meaningful manner 🡪 place the link here
Read More »
Pandemic has fueled growth in the virtual world, and gaming is undoubtedly one of the beneficiaries. We have already seen big corporates jumped into the sector. But opportunities out there are not only for the big brands. Let's drive into why we think this is also the good time for small and medium-sized businesses to get their foot in the game. 🡪 place the link here
Read More »