Yes, you too can…be a part of the rapid growing game market
The connections between consumer brands and games are definitely not a new concept, especially for ones that grew up in the 90s and used to spend hours playing PlayStation 1 during school break. Many would have remembered the legendary game called "PEPSIMAN", where the player plays the American carbonated soft drink Pepsi's superhero mascot attempting to avoid obstacles by running, dashing, and jumping. I, with no exception, was a huge fan of this game.
This game certainly gets huge engagement from players and becomes memorable till these days, as gamers spent a lot of time with the name, logo and products. The brand has become a representative of fun and joy for them. But in today's generation, the world has changed in so many perspectives, including the gaming industry. The running hero PEPSIMAN, may have stolen many of our young hearts back in the days, but doing the same thing with today's environment might not be an ideal marketing strategy. Nevertheless, the success of PEPSIMAN can be a stamp of approval that brands can win the hearts and minds of consumers through 'games'.
Many underlying reasons and scientific studies suggest that in-game advertising (IGA) is one of the most promising of all new forms of advertising. But to put it simple, there are 3 main tailwinds that will support the growth of IGA and brands will inevitably lose if they miss such a great opportunity like this.
Gamers represent a huge population: 
The first one dedicated to the size of the market itself. When I say, the number of global gamers is huge, I literally mean 'HUGE'. According to Newzoo, as of 2020, there are approximately 2.7 billion gamers worldwide. That is more than 30% of our global population. Moreover, today's gamers are not only limited to teenagers who hang out together at the computer stations after finishing their classes like what we used to remember, rather they have evolved into a much more sophisticated group of audiences which comprises all genders, ages and income levels. The mindsets of brands towards 'gaming', therefore need to be transformed in order to understand this arising opportunity and correctly capture it. 
Gamers spends thousands of countless hours playing: 
The second tailwind is that gamers spend an average of 7 hours and 7 minutes each week playing video games. This valuable time opens doors for brands to take advantage of by sharing engaging content with their target audience. Many gamers are more than willing to trade their sleeps in order to pass their next in-game mission. As a result, with the appropriate selection of games, extremely high viewership can be guaranteed.  
IGA can be 'fun' with 'real rewards': 
The last but perhaps one of the most important differentiators that will push IGA forward is that IGA can be enjoyable. Yes you heard it right, advertisements can be 'FUN'. With the right use of 'gamification concept', brands can make gamers feel uninterrupted when presenting their ads. Brands shall be creative in designing non-invasive ads, to be seamlessly integrated into the game. Moreover, some may decide to place ads in natural environments. For example, the placement of ads in sport games (such as NBA, NFL, MLB, Soccer, Tennis) can even increase the realism of the games and gamers are actually expecting to see this type of ads. NBA2k even went further and made the ads interactive, allowing players to buy in-game energy drinks like 'Gatorade' as a way to boost player's endurance when they were playing basketball in the court. Some brands create a custom-branded game which is designed specifically to promote brands and products. For example, Watsons, Asia's leading health and beauty store operator, could enhance customer's shopping experience, driving higher impulse purchases via Watsons' gamification mechanics.
In-game coupons and rewards can also be an icing on the cake to help brands drive their online traffic to offline stores. Gamers will enjoy having real rewards which in turns will improve their engagement and attachment with the brand. 
Having said that, we can be sure that IGA is here to stay and brands should start looking into this opportunity with a new mindset. We will start seeing more collaborative works between advertisers and game developers to come up with new creative ways to reach their audiences. The growth of IGA in the advertising industry landscape will be felt. I am sure that many brands can eventually make a run like the PEPSIMAN once did, as they choose to win the consumer's heart and ride along this wave of opportunity in this new fashion. 
It is very exciting indeed!
As more and more of us are now using smart devices to consume media, which allow us to skip TV commercials, or paying for ad-blocking software, the question becomes "how does a brand get its message across to their target audience?".
Let's learn some of the key benefits than game reskinning can help your brand🡪 place the link here
Read More »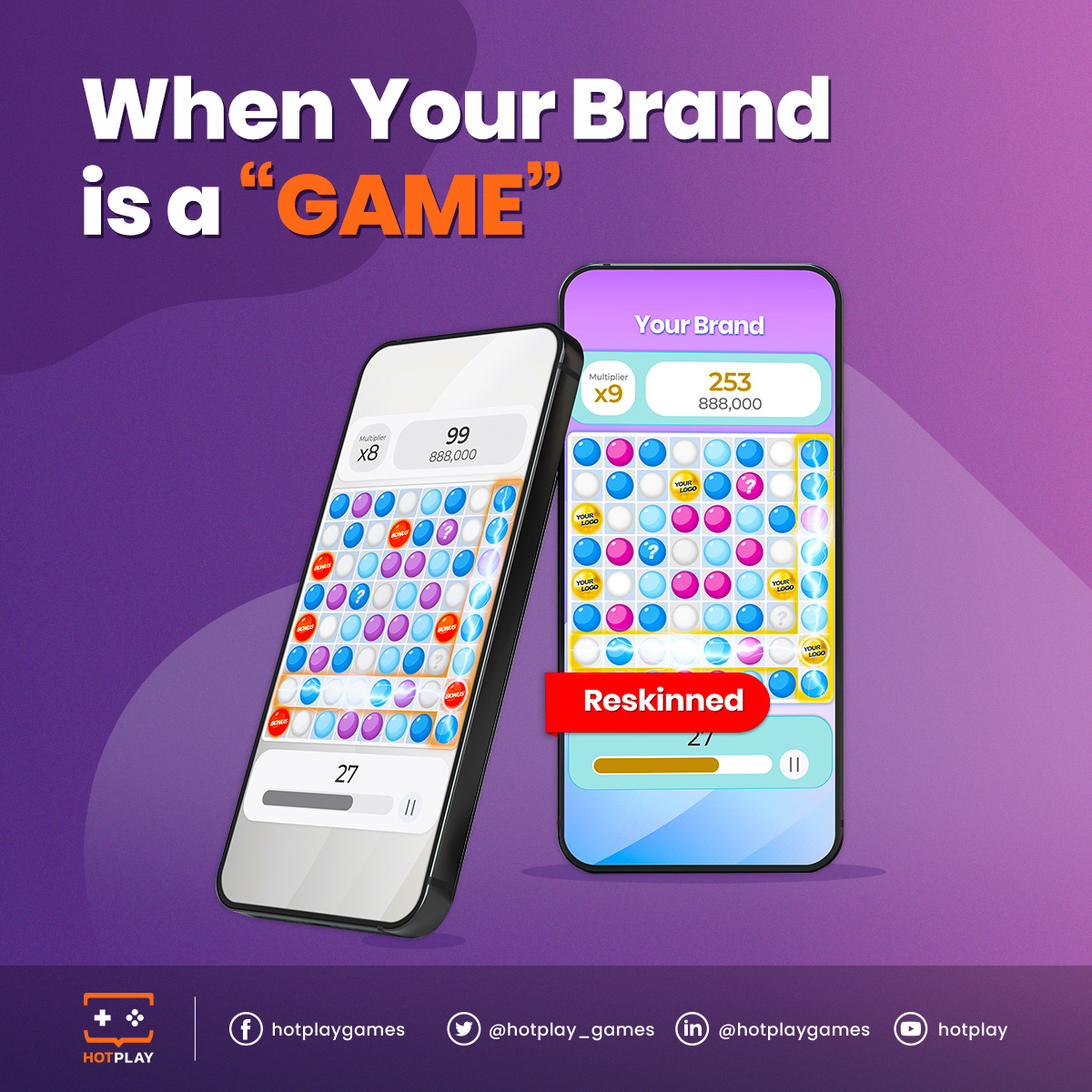 What if we can make our brand a 'game', and then keep people coming back to play over and over. Branded games are just a perfect solution for you.
Let's apply game design philosophy, throwing in tricks and techniques to keep your target audience engaged in a meaningful manner 🡪 place the link here
Read More »
Pandemic has fueled growth in the virtual world, and gaming is undoubtedly one of the beneficiaries. We have already seen big corporates jumped into the sector. But opportunities out there are not only for the big brands. Let's drive into why we think this is also the good time for small and medium-sized businesses to get their foot in the game. 🡪 place the link here
Read More »