Pandemic has fueled growth in the virtual world, and gaming is undoubtedly one of the beneficiaries. According to report from a mobile data and analytics provider, App Annie, the number of games being downloaded in Q1 2021 was 30% higher than those of Q4 2019. The same goes for money being spent in-games, as the figure also increased by 40% from pre-pandemic levels. And this trend doesn't seem to slow down anytime soon. 
As a result, we started to see more and more advertisers are clamoring to get a piece of the pie. Big brands are leading the way, but that doesn't mean there aren't no room for smaller brands. Let's drive into why we think this is also the good time for small and medium-sized businesses to get their foot in the game. 
If you asked industry veterans, they would say in-game ads is probably the best option and easiest way to engage with gaming industry. And we couldn't agree more with this statement. According to a report from Accenture, the data showed that more than 73% of mobile gamers are open to receiving in-game ads. Majority of which also indicated that they would rather watch an in-game ad to earn an asset or to unlock a new level rather than having to pay for that same asset themselves. What we can learn from this statistic is that gamers are not only okay with in-game advertising, but they are also expecting them. 
The good news is that spending in in-game ads is just starting to kick off. The landscape of the industry is still very much in its infancy. This means small and medium sized enterprises can still get involved. There are ways of engagements that smaller brands can explore, without having to go all the way and spend a lot of money like what big brands do when they sponsor gaming events. 
Others in-game ad opportunities can come in the forms of in-game billboards, in-game assets, rewarded-video and so on (learn more about "The Three Types of Non-Intrusive In-Game Advertising" ). These types of opportunities are inexpensive compared to overall sponsorship of a gaming event.
However, it is important for smaller brands to remember that a good in-game ad is the one that is not disruptive and do not affect the gameplay. For example, in-game billboard, which is not only limited to first-person shooter games, but can be in sport videogames is very effective in nature due to its advertising style that help to enhance the overall in-game environment. Sporting arenas and racetracks have lots of advertising real estate are perfect for in-game billboards. And these subtle billboard ads fit perfectly because it becomes part of the game and even make the game more realistic. 
In today's era, game developers are starting to build games with this mindset, therefore advertisers must also have the same mindset of the non-intrusive ad placements in mind. The more native and inherent the ad experience, the less invasive it will feel, which will ultimately benefits users and advertisers altogether.
Apart from the concept of 'why should we invade the game? Instead, we should be 'the game', or the seamless integration of in-game ads, smaller brands that wish to do in-game advertising must also understand that gamers are different in nature and video game genre does matter. 
Casual gamers are more okay with ads than those midcore and hardcore. They are also comfortable with coupon ads, which is one of the most effective promotion tools that comes at a competitive cost (learn more about Coupon Ads in Mobile Games – New Way to Drive Real Transactions). Meanwhile, hardcore and midcore gamers are positive about rewarded video ads given they understand the value exchange they gain from watching these ads. They, however, do not like display formats such as banner or interstitial since it often disrupts longer-running gameplay.
Nevertheless, being okay to ads do not necessary mean they want to keep seeing ads all the time. It is very important to optimize the ad placement to maximize engagement. The ad frequency within the game should also be monitored and tested to ensure that the game still run at its best performance.
These being said, as in-game advertising grows in popularity, so will the cost. With billions of mobile devices and new gamers entering the industry every day, it will not take long for this trend to grab hold and smaller businesses will no longer be able to afford. Therefore, now is a golden opportunity as the prices are still manageable. In-game ads offer a great gateway for small brands to get acquainted with the gaming world, ….and why should we wait?   
Please visit HotPlay for more information. 
As more and more of us are now using smart devices to consume media, which allow us to skip TV commercials, or paying for ad-blocking software, the question becomes "how does a brand get its message across to their target audience?".
Let's learn some of the key benefits than game reskinning can help your brand🡪 place the link here
Read More »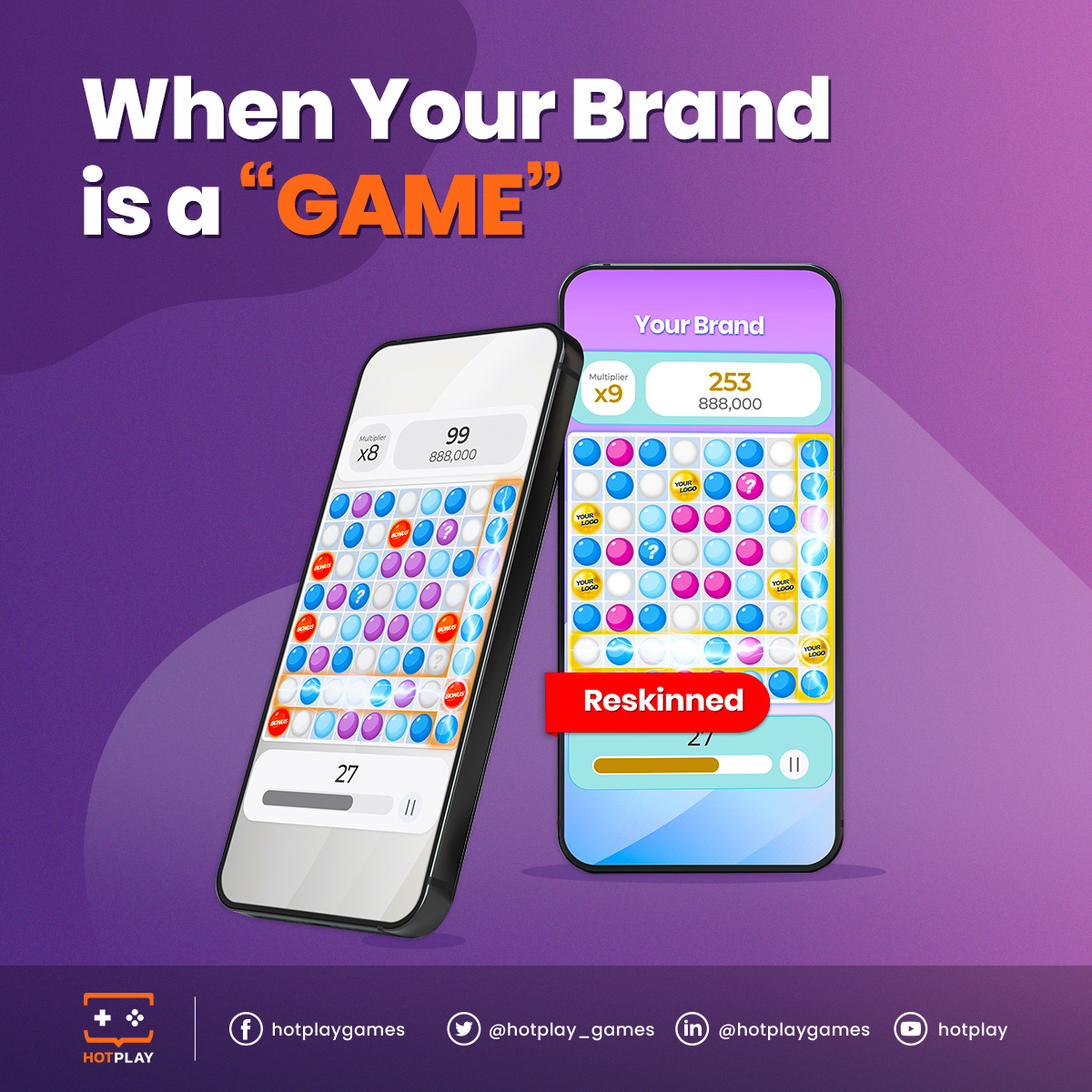 What if we can make our brand a 'game', and then keep people coming back to play over and over. Branded games are just a perfect solution for you.
Let's apply game design philosophy, throwing in tricks and techniques to keep your target audience engaged in a meaningful manner 🡪 place the link here
Read More »
Pandemic has fueled growth in the virtual world, and gaming is undoubtedly one of the beneficiaries. We have already seen big corporates jumped into the sector. But opportunities out there are not only for the big brands. Let's drive into why we think this is also the good time for small and medium-sized businesses to get their foot in the game. 🡪 place the link here
Read More »