We live in the world of 'consumerism', where consumer brands put all eyes and ears in finding ways to tap into the consumer's brain. It is the era of fast-changing times for branding, marketing and advertising.
As more and more of us are now using smart devices to consume media, which allow us to skip TV commercials, or paying for ad-blocking software, the question becomes "how does a brand get its message across to their target audience?".
One increasingly popular strategy is to use 'branded content'. This can be in the form of sponsored magazine articles, music videos, short films and including games. This type marketing content is much more appealing, entertaining, informative while at the same time also very engaging. Consumers are much happier to spend their time participate and interact with this type of content as compared to the traditional ways of advertisement we get used to in the past.
But for today's article, we will only focus on 'branded games', which many believe would potentially be one of the tactical strategies that will redefine the future of marketing. We have discussed about what branded games are (When Your Brand is a "Game"), now let's get a bit deeper into 'game reskinning' and what benefits it can bring.
Customizability
The first and perhaps one of the most important attributes from branded game is to be able to customize the game into the look and feel that you want. Brand can add its logo, change background, align brand color and theme, or even replace the game's virtual assets with the one of your owns and produce a top-quality game specifically for your brand. Moreover, the overall mood and tone of the game can also come in different styles that match with the industry that brands belong to, such as luxury, sport, casual and fashion.
High customer engagement
Secondly, branded games help to attract more interest and engagement among users and the audience of your brand will feel more connected to the brand and less likely to feel that they are being advertised to.
Due to its interactive nature, branded games can perfectly deliver your business message to your users in a lot less intimidating way. Being designed to entertain, branded game will bring about the personalized gaming experience which in turn help to create a positive emotional connection between your customers and your brand.
Customer insight
Branded game is a perfect tool for gaining knowledge about your customers, while at the same time offering them more insights about your products. Apart from its high cost-value ratio, due to being 'digital in nature', branded game allows you to collect and extract several customer data touchpoints. And by analyzing their performance and behavior, you can get important insights about your customers that can be valuable for crafting your business strategies effectively.
Increase sales conversion
Taken from the previous two benefits, once you are able to create high customer engagement and learn more about your customer insight, then come an increase in sales conversion. As consumers spend more time associating with brands, they tend to be more willing in spending for your products and services.
Drive store traffic
Interactive games that offer customers real-life rewards and coupons which can be redeemed at offline stores are another effective way to drive store traffic. In this, brand must learn to be very creative and come up with an interesting campaign that can synergize online-to-offline (O2O) integration. Brand can also utilize several special game mechanics and virtual gifts to stimulate in-store traffic.
To summarize, game reskinning is an efficient way for brand to communicate with target customers in this era. It can be considered as a channel that perfectly blurs the line between marketing and entertainment which creates a more effective brand space. Utilizing this method, the marketing messages that brand sends out will be more acceptable in the eyes of the receivers. All in all, it is all about making people want to see the advertised message, rather being forced or tricked into seeing it. And branded game helps us to do just that.
Please visit HotPlay for more information.

As more and more of us are now using smart devices to consume media, which allow us to skip TV commercials, or paying for ad-blocking software, the question becomes "how does a brand get its message across to their target audience?".
Let's learn some of the key benefits than game reskinning can help your brand🡪 place the link here
Read More »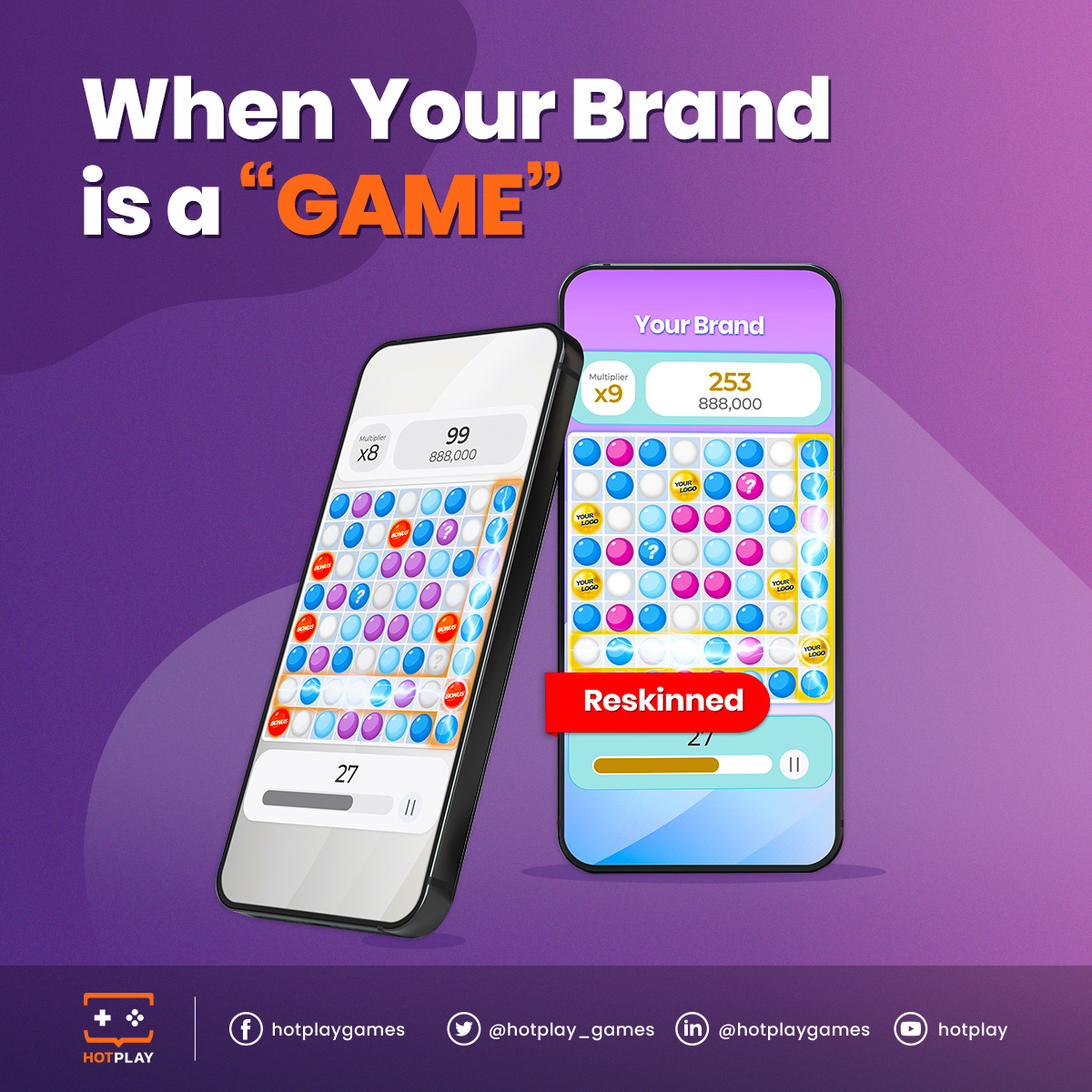 What if we can make our brand a 'game', and then keep people coming back to play over and over. Branded games are just a perfect solution for you.
Let's apply game design philosophy, throwing in tricks and techniques to keep your target audience engaged in a meaningful manner 🡪 place the link here
Read More »
Pandemic has fueled growth in the virtual world, and gaming is undoubtedly one of the beneficiaries. We have already seen big corporates jumped into the sector. But opportunities out there are not only for the big brands. Let's drive into why we think this is also the good time for small and medium-sized businesses to get their foot in the game. 🡪 place the link here
Read More »