Gamification has been the "word" on every marketer's lips for years now. Not only that it helps retailers engage with their customers better, but it also helps them drive brand loyalty and increase sales. HotPlay has recently developed an engaging in-store game for Thailand's leading health and beauty store operator, Watsons. The partnership has been nothing but successful, while at the same time makes great fiscal sense.
From creating playful experiences through gamification for store visitors, Watsons is able to achieve a deeper level of customer engagement as well as re-energize its store environment. With game technology and technical gaming expertise, HotPlay is able to develop push gamification mechanics that could enhance Watsons customer's shopping experience, driving higher impulse purchases. Store visitors who participate in the game will immediately be able to redeem their prize at the store, as they achieve the game's mission. The excitement of winning or receiving a prize will then help to improve the overall customer satisfaction.
Another benefit that this well-designed game gives to Watsons is the additional on-screen space for in-game advertising. Having the game installed on site, the store is able to resell the advertising space to brands listed in Watsons store which will in turn help gaining additional revenue to Watsons.
On top of that, HotPlay also helps Watsons evaluate its conversion funnel and the effectiveness of each promotional campaign from their brand partners through continuous customer data collection. These valuable insights will help the store to develop winning marketing strategies going forward. It is explicit that gamification will help retailers build relationships with their best customers while fostering a greater sense of loyalty. The power of this meaningful interaction will take your marketing to the next level.
Not only that Watson's name itself has already become a household name in Thailand, the beauty retailer is also a leading store throughout Asia and Southeast Asia. With HotPlay's customized gaming solution together with brand popularity, many more fruitful results would be able to be achieved from such strategic partnership.
As more and more of us are now using smart devices to consume media, which allow us to skip TV commercials, or paying for ad-blocking software, the question becomes "how does a brand get its message across to their target audience?".
Let's learn some of the key benefits than game reskinning can help your brand🡪 place the link here
Read More »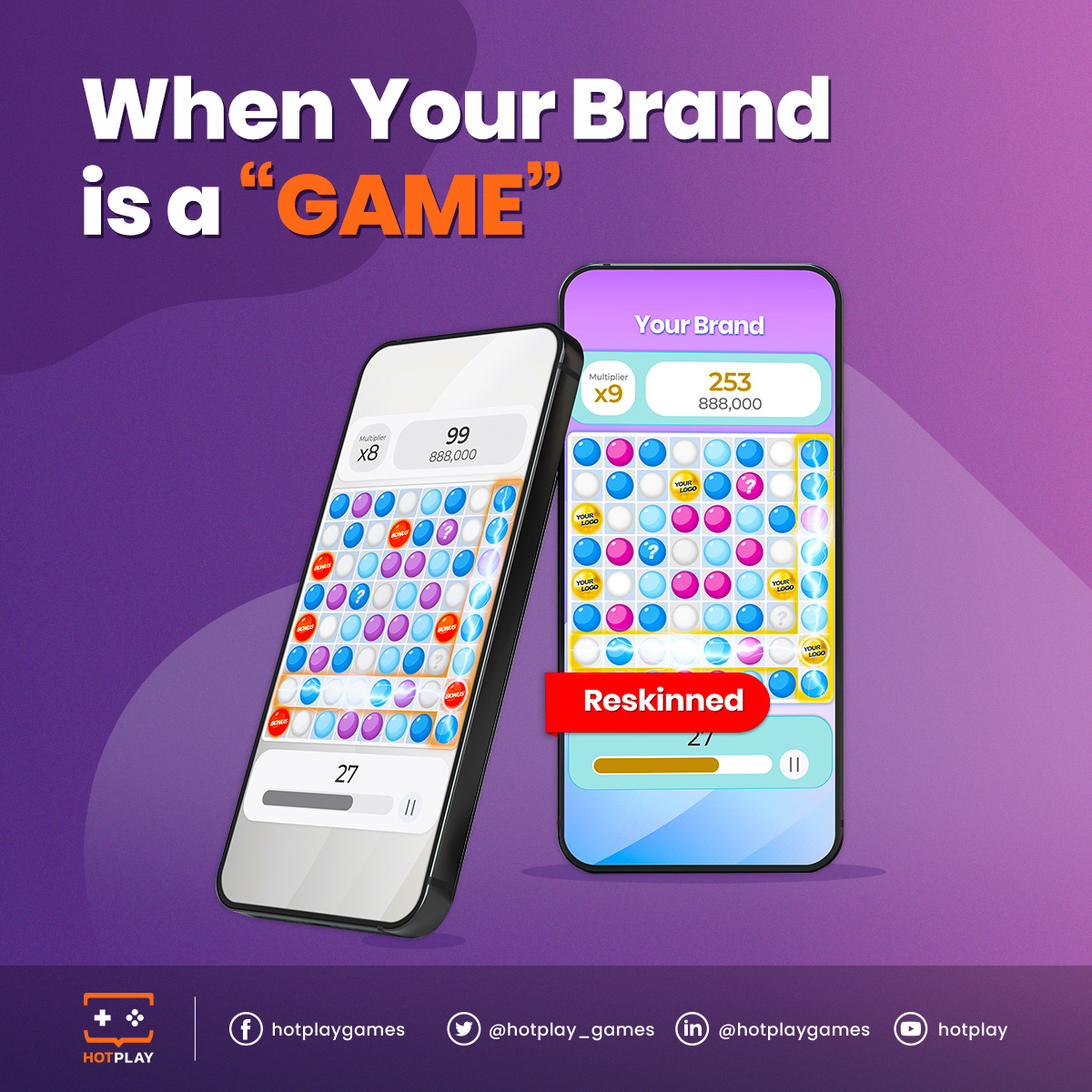 What if we can make our brand a 'game', and then keep people coming back to play over and over. Branded games are just a perfect solution for you.
Let's apply game design philosophy, throwing in tricks and techniques to keep your target audience engaged in a meaningful manner 🡪 place the link here
Read More »
Pandemic has fueled growth in the virtual world, and gaming is undoubtedly one of the beneficiaries. We have already seen big corporates jumped into the sector. But opportunities out there are not only for the big brands. Let's drive into why we think this is also the good time for small and medium-sized businesses to get their foot in the game. 🡪 place the link here
Read More »