In-game ads are becoming more popular as developers fortify their monetization strategies.
The rise of the smartphone, which comes with the shift of everything on laptops to apps over the mobile phone, has completely changed the way advertisers communicated and connected with consumers. And apart from the popularity of in-app ads that we may be accustomed to over the years, gaming companies also made a noteworthy move in the advertised world by incorporating ads into gaming experiences. These types of ad format are called "in-game ads", which can be on mobile devices, PCs, as well as consoles.
Due to the impact of the pandemic, consumer buying power is decreasing. App developers that have been relying on in-app purchases for their monetization are inevitably facing a revenue decline. As a result, game developers should consider implementing ads on their games to supplement their income. This additional revenue stream will provide a good financial opportunity that can offset losses occurred during the crisis. Moreover, developers should also be noted that there are several ad formats that can be implemented in-game without causing negative impacts on customer loyalty. If being integrated creatively, they should not be concerned that gamers will turn away from their games once they see ads.
Game developers can choose to design ads in a few different manners. Some ads can be shown during non-playing time such as during players are entering the game, during downloading a new level or downloading in-game resources. These types of ads usually come in the form of pop-up banners or video content ads. Another type of in-game ads is "the blended ads". These ads can seamlessly blend into the gaming environment, while players will be able to see them during their game session. Blended ads are delivered programmatically and can be dynamically updated. They are becoming more and more popular because they can offer unprecedented creative opportunities for game developers to design the integration process.
Game developers do not need to worry that these blended in-game ads will ruin a player's unique love for the game, given most of the time these ads eventually enhance the gaming environment. Plus, they can appear on just any in-game objects.
In sports games or racing games, you might see them on stadium signage, scoreboards, player jerseys and racing car stickers. While, in popular shooting-style games, they might show these ads on in-game locations that are important for those particular maps such as storefronts or billboards. Sometimes, brands can also create their own specific in-game items such as skin (character's outfits), weapons, and vehicles. These outfits and items will usually remain with the player's character through an entire gaming session. As a result, they do not only help to create an impression for the player who controls that particular character but also attracts other players' attention when they run into each other inside the game during that session. We have already seen these sponsored contents being successfully implemented in RoV, Free Fire, PUBG MOBILE and many other popular games
Essentially, there are several benefits why game developers should consider in-game ads as an alternative way to drive their revenue. They can help increase player retention, especially when brands give tangible rewards for players through in-game ads. These types of ad can also help expand your gamer base as many renowned brand partners decided to join the platform. On top of that, if in-game ads appear in the same places that gamers would expect to see them in the real world, it will ultimately help enhance the overall mood and tone of the game, making the game feel more realistic and enjoyable for the players.
As more and more of us are now using smart devices to consume media, which allow us to skip TV commercials, or paying for ad-blocking software, the question becomes "how does a brand get its message across to their target audience?".
Let's learn some of the key benefits than game reskinning can help your brand🡪 place the link here
Read More »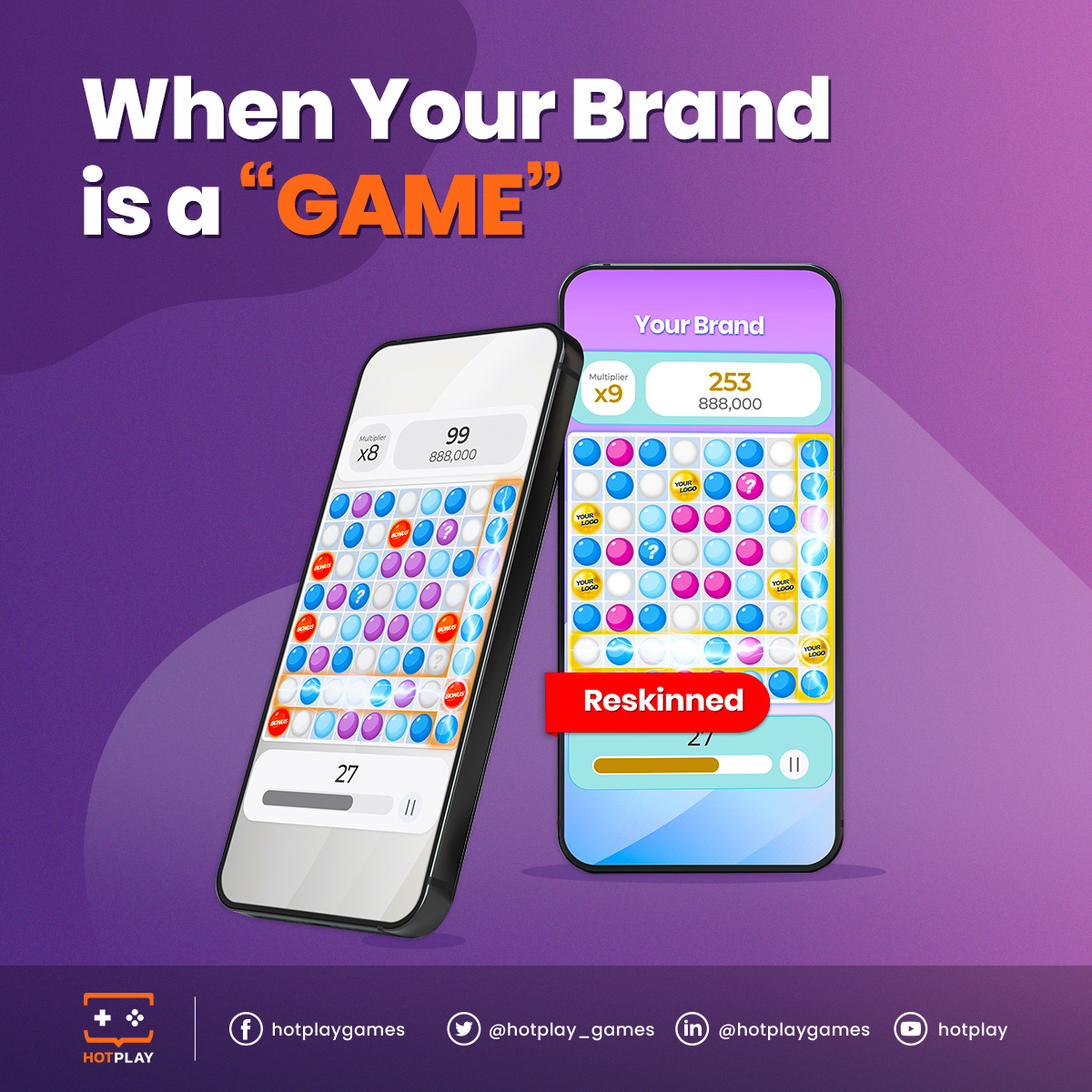 What if we can make our brand a 'game', and then keep people coming back to play over and over. Branded games are just a perfect solution for you.
Let's apply game design philosophy, throwing in tricks and techniques to keep your target audience engaged in a meaningful manner 🡪 place the link here
Read More »
Pandemic has fueled growth in the virtual world, and gaming is undoubtedly one of the beneficiaries. We have already seen big corporates jumped into the sector. But opportunities out there are not only for the big brands. Let's drive into why we think this is also the good time for small and medium-sized businesses to get their foot in the game. 🡪 place the link here
Read More »