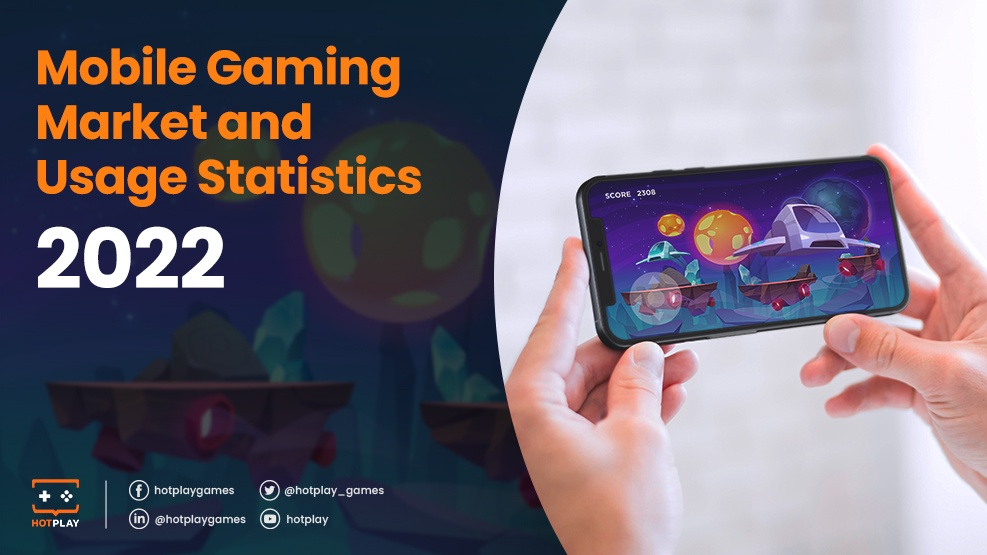 After the greatest year in gaming ever, 2021, it's time to look ahead. It proved to be a promising future. Last year, blockchain gaming, play-to-earn, and the metaverse were all hot topics. The mobile gaming segment has grown to be greater than movies and sports combined, driving the sector's growth. According to Google for Games and Newzoo, the global games market revenues in 2021 reached $175.8 billion, with 3 billion gamers. 
Discover the trends affecting the global games business in 2021 and beyond, from the rise of social streaming to shifting platform priorities. Learn about the mobile gaming market statistics, and let's work together to win big in 2022!
Overall Gaming Market Industry Statistics for 2022
According to Newzoo, the worldwide games business will produce $218.7 billion in revenue in 2024, up from $175.8 billion in 2021. 
In 2021, the number of gamers worldwide surpassed 3 billion, up from 2.7 billion in 2020. 20% of the players were either new or returning. 80% of the players were veterans who had already started playing prior to 2020.
Asia-Pacific is and will continue to be one of the most important gaming areas in terms of market domination. The Asia-Pacific region currently accounts for 55% of all global gamers, and this percentage is rapidly increasing. Not only does the region have the most players, but it also generates the most revenue. The two largest economies, the United States and China, accounted for over half of global consumer expenditure on games and associated things in 2020.
Mobile Gaming Market Statistics for 2021
According to We Are Social and Hootsuite, 5.22 billion individuals have a mobile phone, accounting for 66.6% of the global population in January 2021. And this figure is increasing at a rate of around 1.8% per year. Meanwhile, the number of internet users globally has increased by 7.3% since 2020, to 4.66 billion. More than 90% of these major groups of internet users are also online gamers. In addition, 75% of these internet users use their smartphones to play video games. According to all estimates, there are roughly 3.5 billion mobile gamers.
According to AppAnnie, publishers released 2 million new apps and games in 2021.  The total number of apps and games available on iOS and Google Play now exceeds 21 million. Consumers have shifted more of their entertainment and gaming to mobile devices. There were over 230 apps and games with yearly consumer spending above $100 million, with 13 of them exceeding $1 billion. This was up 20% from 2020, with 193 apps and games exceeding $100 million in annual spend and only 8 over $1 billion.
Game Players Profiling
Although gaming adoption rates amongst older generations (55-64) aren't as high as they are for Gen Z (16-24) and millennial (25-34). Data still shows that more than ⅔ of internet users aged 55 to 64 around the world play video games, indicating that there is still a huge opportunity awaiting. 
The mobile gaming gender split is 51% female and 49% male. 43% of women play mobile games more than five times a week, whereas only 38% of men play that often, as quoted by Forbes.
Gamers spend an average of 6 hours 20 minutes each week playing games. And 68% of mobile gamers play their favorite game every day, with an average of 47 minutes for one session, according to 2CV.
Game Preferences Statistics for 2021
SocialPeta, an ad and marketing intelligence platform, reported that hardcore games are the largest media buyer, taking 42.3% of all creative artworks. Meanwhile, casual and midcore games take a similar share, at about 30% of all types of creative.
Most of the ad creative in H1 2020 was video creative, occupying 46%, followed by image creative, occupying 28%. According to AppAnnie, in 2020, casual games dominated download activities, accounting for 68% of all mobile games, driven mainly by the popularity of easy-to-use games such as Among Us, ROBLOX and My Talking Tom Friends. On the other hand, core gamers generate 66% of ad spending and 55% of time spent on mobile games.
Top Game Download Worldwide 2021
According to Sensor Tower, Garena Free Fire emerged as the top mobile game in Q4 2021 with approximately 80 million downloads across the App Store and Google Play. In 2021, it was the only game to rank in the top five every quarter, and it benefited from the release of Garena Free Fire MAX earlier this year.
In November, Krafton's PUBG: New State had a great debut, ranking among the top 10 games in Q4 2021. It was the third most popular battle royale game, after Garena Free Fire and PUBG Mobile.
Key Highlights for Game Developers and Marketers
1. Mobile gaming is fueling growth in live streaming 
Games-related content alone is consumed by over 600 million people worldwide. The pandemic has not just accelerated the growth of game players but also game live streaming audiences. In 2021, the worldwide game live-streaming audience reached 728.8 million, up 10.0% from 2020. They are on track for even more growth in 2022. It's time to include them in your marketing activities! 
In this aspect, HotPlay's in-game advertising is a great place for businesses to grow their brands and reach potential customers. It emits creative and unobtrusive ad campaigns that catch attention without annoying or interrupting games experience. Meanwhile, streamers can show off your products and services as game items or coupon rewards on their live stream to a wide audience. 
The result is what you need – strong relationship with the rapid-growing games community as well as strong demand for your product.
2. Using games to socialize
Many users have been using gaming platforms as a digital place to network, and interact with friends and family, in addition to for entertainment purposes. They may, however, prefer a single-player experience over multiplayer. Many gamers are still willing to cooperate. This gives gamers the option of treating the gaming platform as a type of social network.
As a result, the industry is expected to develop significantly in 2020. Furthermore, it has sparked a substantial increase in gaming communities via online forums and live streaming sites like Facebook Gaming, YouTube Gaming, and Twitch.
3. Game players support ads in games. But you need to treat them fairly and be creative
Players are willing to view advertising if it means getting anything for free, according to 2CV. People prefer adverts in games to in-app purchases and game purchases, according to a Facebook gaming report. 
In terms of ad formats, game players said they prefer rewarded video and playable advertising since they give them something to do right away in the game while not interfering with the game's content. 
As a result, creative and useful commercials like rewards videos and in-game coupon ads can generate a lot of interaction and could be a fantastic way to monetize a game.
Source
As more and more of us are now using smart devices to consume media, which allow us to skip TV commercials, or paying for ad-blocking software, the question becomes "how does a brand get its message across to their target audience?".
Let's learn some of the key benefits than game reskinning can help your brand🡪 place the link here
Read More »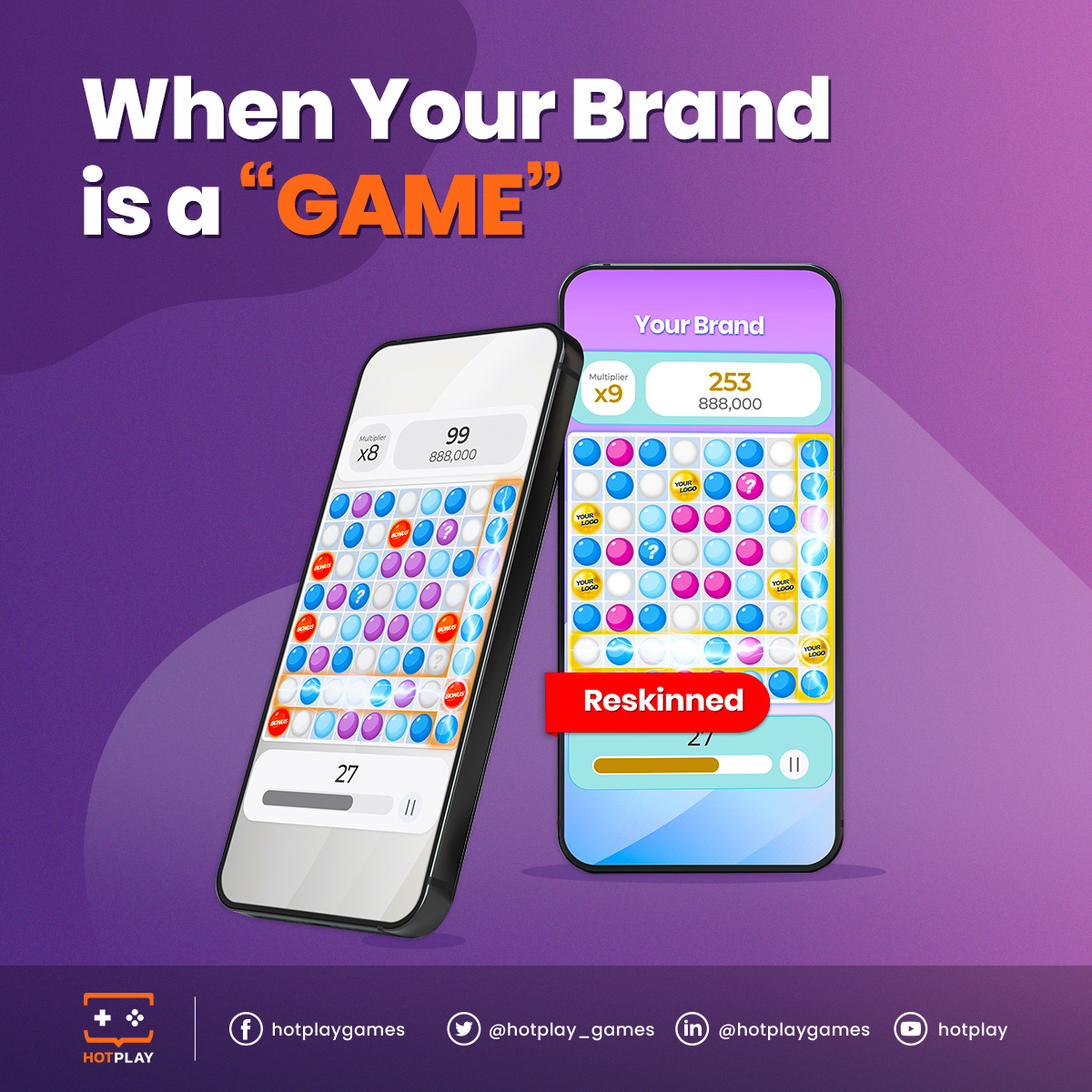 What if we can make our brand a 'game', and then keep people coming back to play over and over. Branded games are just a perfect solution for you.
Let's apply game design philosophy, throwing in tricks and techniques to keep your target audience engaged in a meaningful manner 🡪 place the link here
Read More »
Pandemic has fueled growth in the virtual world, and gaming is undoubtedly one of the beneficiaries. We have already seen big corporates jumped into the sector. But opportunities out there are not only for the big brands. Let's drive into why we think this is also the good time for small and medium-sized businesses to get their foot in the game. 🡪 place the link here
Read More »