Based on the fact that we all love playing games, regardless of our ages. From young children to adults, the prospect of receiving a reward for completing a mission is something we all can instinctively relate to. With rising competition across all industries, brands that can keep their customers engaged will have the edge over their peers.
As a result, many brands are turning to 'gamification strategies', with an aim to better reach out and connect with their audiences in a creative and engaging manner. An interactive experience with rewards or many other forms of instant gratification can arouse customer interest towards your products or services.
To give an example of how brands adopt 'gamification' and plug it right in their marketing strategies, we can refer to the concept of 'shoppertainment', which refers to the combination of the term 'shopping' and 'entertainment'. It is the concept where we bring entertainment into the shopping experience. Brands learn how to treat online and offline shopping channels as complementary to each other instead of competitors. This O2O (Online-To-Offline) is already here and will continue to dominate retail marketing in the near future.
In-game advertising is also one of the up-and-coming tools that brands turn to when it comes to omnichannel marketing techniques. This concept also fits right into the world of 'gamification'. The concept sits at the heart of "shoppertainment", offering several key benefits to advertisers. This type of platform can offer marketers an exciting opportunity to engage and interact with their prospect audiences in a very entertaining and enjoyable style.
Through in-game advertising, brands can advertise directly within the gameplay in some of the world's most popular games in a seamless manner. They can also choose to drive sales through in-game coupons with real-world value. As a result, meaningful engagement between brands and customers can then be formed.
At times, brands may choose to roll out a small in-game tournament or leaderboard to enhance the user experience with excitement. Customers can enjoy collecting points in order to redeem rewards or discounts.
One of the key winning strategies for employing 'gamification' is that brands should not over celebrate the top performer. Or in other words, make sure that all users/customers are actually the 'winners'.
Performance and reward should also be measured in part based on participation, rather than just 'playing skills'. This will help keep participants positively engaged with the brand. Note that rewards must also be creative and represent something that customers would enjoy receiving. With the right techniques, brands can pull out the edge and come up with a bigger win through 'gamification'.
As more and more of us are now using smart devices to consume media, which allow us to skip TV commercials, or paying for ad-blocking software, the question becomes "how does a brand get its message across to their target audience?".
Let's learn some of the key benefits than game reskinning can help your brand🡪 place the link here
Read More »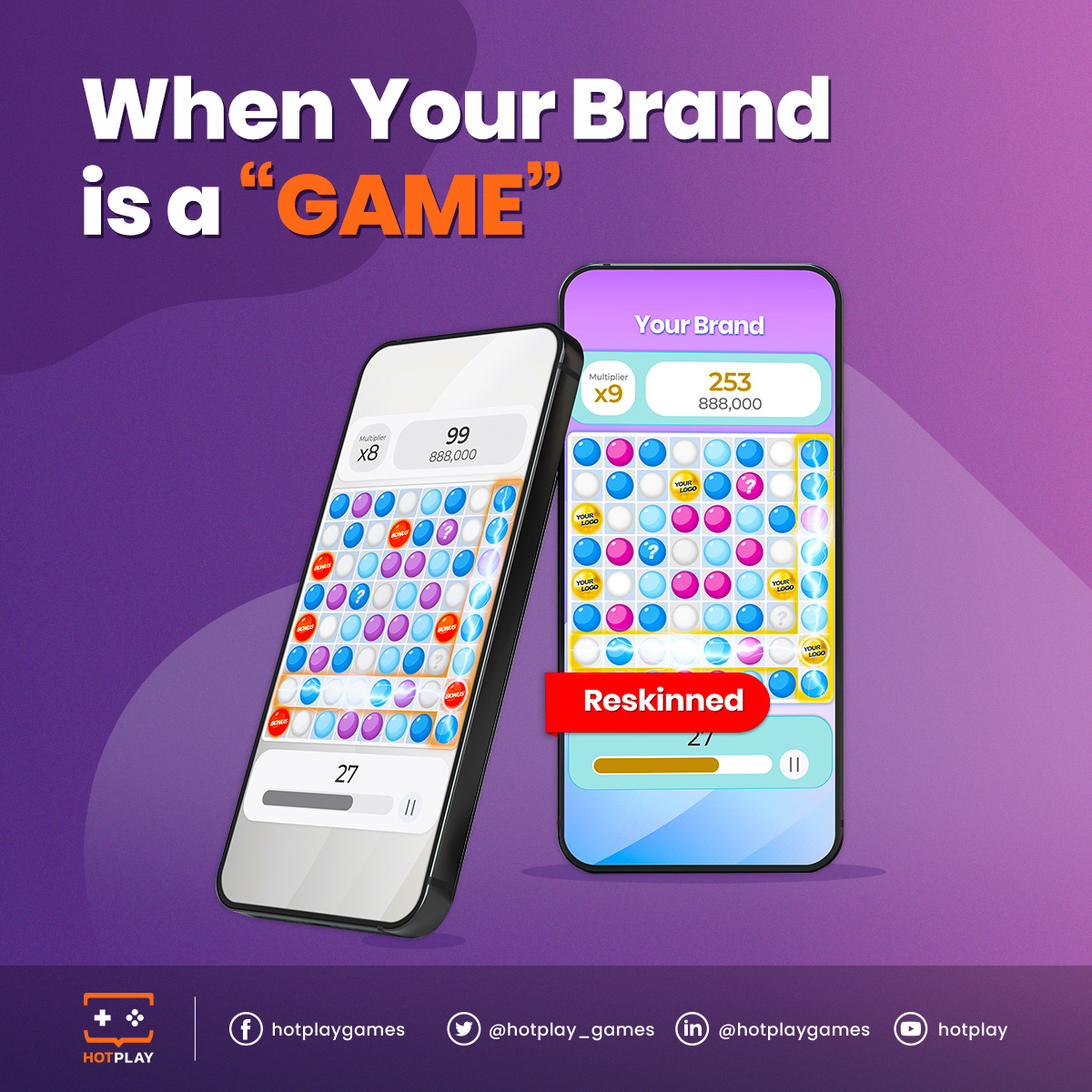 What if we can make our brand a 'game', and then keep people coming back to play over and over. Branded games are just a perfect solution for you.
Let's apply game design philosophy, throwing in tricks and techniques to keep your target audience engaged in a meaningful manner 🡪 place the link here
Read More »
Pandemic has fueled growth in the virtual world, and gaming is undoubtedly one of the beneficiaries. We have already seen big corporates jumped into the sector. But opportunities out there are not only for the big brands. Let's drive into why we think this is also the good time for small and medium-sized businesses to get their foot in the game. 🡪 place the link here
Read More »