It has been 20 years since the term 'Gamification' was coined by Nick Pelling, the British born computer programmer. Ever since we have seen the act of gamifying being used or applied in almost every walk of life. However, one of the areas of greatest relevance in which 'Gamification' has most widely been adopted is in the field of marketing. And this is even more noticeable in today's era as smartphone penetration rate continues to rise, allowing mobile gaming to take off. We often see brands capitalizing the act playing games to help promote their products and services. And many of them do find the method to be very successful. 
To put it simply, applying gamification in your marketing can help brands improve their user engagement, drive more conversion and ultimately win more sales. To elaborate further, gamification allows marketers to attract their target audience in a fascinating way and make them take action without them even realizing it. 
For example, Domino's Pizza sales revenue increased by 30% after releasing its gaming app "Pizza Hero" that allowed their customers to create their own Pizza. Other big brands like Coca-Cola, KFC, and Nike also applied a great deal of gamification concepts to help promote their new products on several occasions (Visit to learn more about gamification concept). 
Like what we are accustomed to in traditional marketing, the impact of gamification also starts from 'awareness'. This is what happens when your target audience sees gamified content, either through your company's website/application or via in-game advertising in which you have rolled out with game developers/agencies. This attention capture is an important first step to getting your designed results and business's call-to-action (CTA).  
As we earlier discussed, a big punch for gamified content is 'engagement'. Because playing games hardly makes the audiences feel like being marketed to. As a result, they are more likely to respond to your CTA than if it was a traditional marketing method. There are several gamification strategies that brands can adopt and put them into good uses to help them capitalize. In-game-advertising is also one of the up-and-coming tools. Brands can advertise directly within the gameplay in some of the world's most popular games in a seamless manner. They can also choose to drive sales through in-game coupons with real-world value (Visit to learn more about gamification strategies).
Another important aspect that gamification can also contribute greatly to is 'loyalty'. As much as we talk about getting awareness for your brands, retaining existing customers is always better. Gamified content has been proven to be a successful way to help keep your customers coming back, especially if you tie it along with creative 'rewards'. Rewards which can come in the forms of redeemable points or discount coupons can help create valuable customers for your brands. If your customers have a good experience and have been enjoying the incentives that you have provided them, they might just turn themselves in to help advocate for your brand.  
With all being said, 'Gamification' is an effective way to boost the result of your marketing campaign. It provides a way for brands to build relationships with their target audience and influence their decision-making process. It is also a very cost-effective and an easy to roll-out method.  
Nothing is more exciting than seeing your target audience having fun while your conversion rates continue to climb up, right?  
Therefore, if you are not already using 'Gamification' for your brands, it is more than worth the try. 
As more and more of us are now using smart devices to consume media, which allow us to skip TV commercials, or paying for ad-blocking software, the question becomes "how does a brand get its message across to their target audience?".
Let's learn some of the key benefits than game reskinning can help your brand🡪 place the link here
Read More »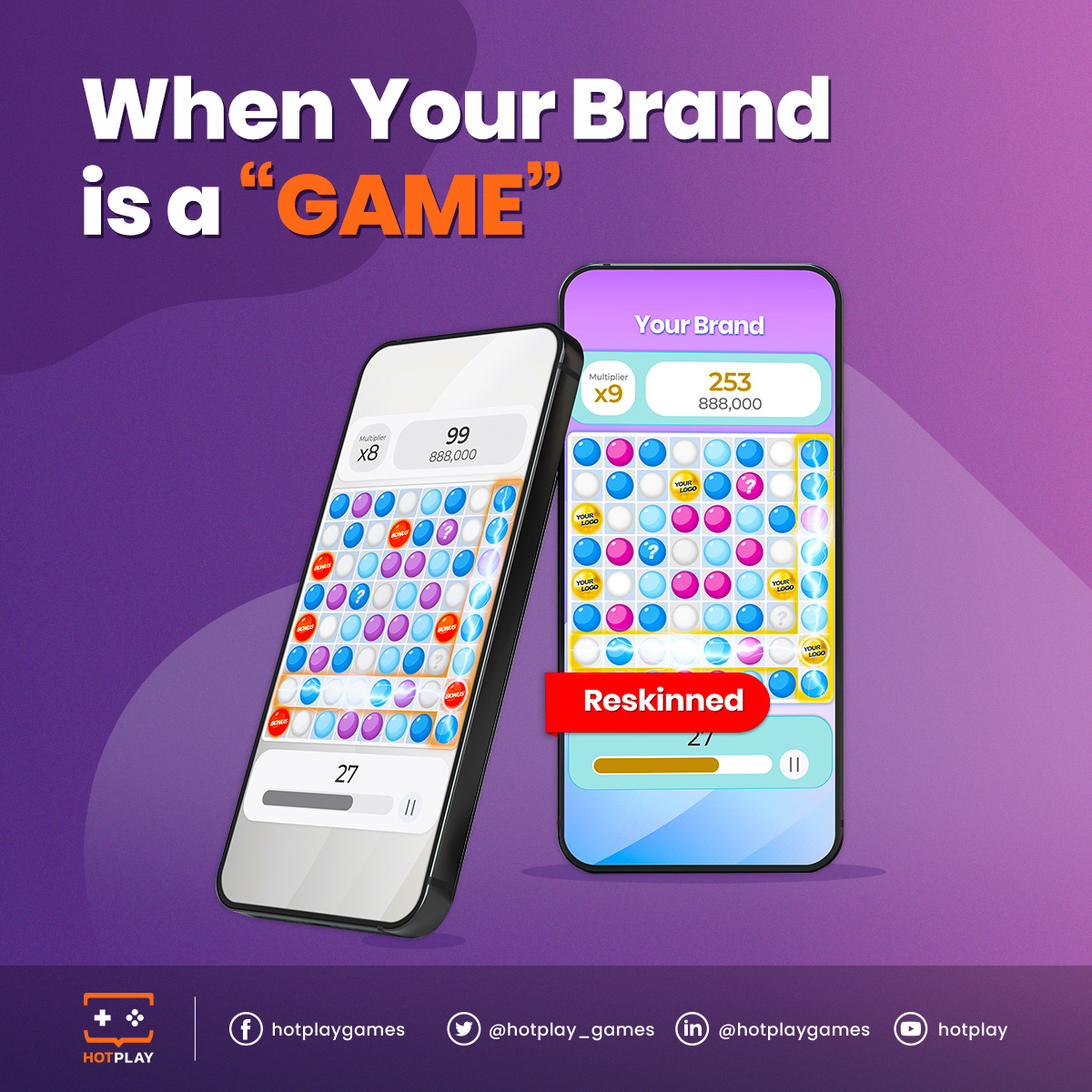 What if we can make our brand a 'game', and then keep people coming back to play over and over. Branded games are just a perfect solution for you.
Let's apply game design philosophy, throwing in tricks and techniques to keep your target audience engaged in a meaningful manner 🡪 place the link here
Read More »
Pandemic has fueled growth in the virtual world, and gaming is undoubtedly one of the beneficiaries. We have already seen big corporates jumped into the sector. But opportunities out there are not only for the big brands. Let's drive into why we think this is also the good time for small and medium-sized businesses to get their foot in the game. 🡪 place the link here
Read More »