Unlike what we used to hear in the past, the gaming landscape of today's world can no longer be called a niche market. Over the last several years, the growth of the industry has been very impressive, securing a top spot as a dominant category in media consumption, specifically on mobile devices.
And you know what comes after one spends a lot of time doing something, they will become very into it. That happens to us all gamers. Consequently, we start to witness that the lines between our physical and digital worlds, and our physical and digital selves are getting blurred. People are placing more and more importance on their gaming avatar, as they develop their online persona in video games and chat rooms.
On top of that, not only do we enjoy in-game socializing, but we also shop through games. Several brands have taken gaming seriously as a commercial sales channel. Or in other words, the borders between gaming, social and shopping have vanished. Social gaming commerce is the use of a gaming platform for e-commerce sales and social connectivity. This type of activity may develop into a game-changer for brands, allowing them to connect with their target market in an engaging and fun manner.
Some of the key benefits that we can derive from social gaming commerce are for example the platforms may allow gamers to interact with other gamers and with brands everywhere they go online. At the same time, brands allow gamers to purchase or win virtual branded clothing & accessories in which they can use to personalize their avatars in-games, creating a good impression to their friends in their respective virtual circle.
Consequently, it is a proven fact that brands need to be in games. Businesses that do not want to lose out on this rising opportunity must learn to digitize their physical products to be present in the virtual form within games as soon as they can. Similar to what are made to be used in the real-world, types of popular in-games products also vary and can be in any industries possible, such as fashion, technology, food & drink, jewelry, beauty and art.
Brands need to admit that today's gaming is no longer just games and no longer just for kids. Gamers give almost the same importance to looking good-in-game as how they look in real life. So the opportunities to take the advantages of such notion are up to our own creativity and imagination. Businesses that understand such belief system before their peers are set to leverage the most from gaming platforms and take an early leap for huge commercial gain.
As more and more of us are now using smart devices to consume media, which allow us to skip TV commercials, or paying for ad-blocking software, the question becomes "how does a brand get its message across to their target audience?".
Let's learn some of the key benefits than game reskinning can help your brand🡪 place the link here
Read More »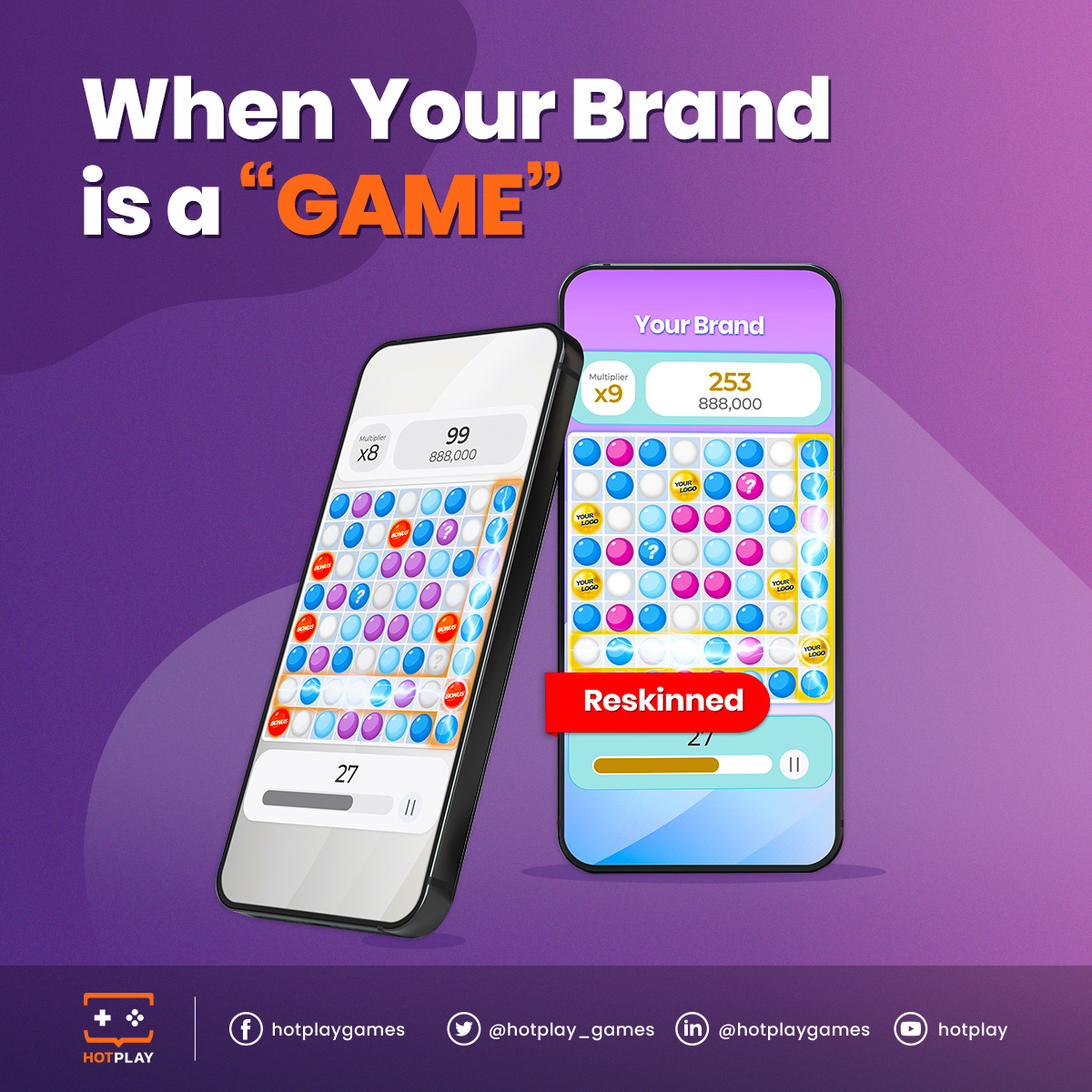 What if we can make our brand a 'game', and then keep people coming back to play over and over. Branded games are just a perfect solution for you.
Let's apply game design philosophy, throwing in tricks and techniques to keep your target audience engaged in a meaningful manner 🡪 place the link here
Read More »
Pandemic has fueled growth in the virtual world, and gaming is undoubtedly one of the beneficiaries. We have already seen big corporates jumped into the sector. But opportunities out there are not only for the big brands. Let's drive into why we think this is also the good time for small and medium-sized businesses to get their foot in the game. 🡪 place the link here
Read More »