Over the course of the COVID-19 pandemic, consumers got used to spending time online for almost all sorts of activities which were previously done offline. Many of whom were not accustomed to online shopping had no choice but to start adapting themselves to the new norm. 
During this period, the internet and video games have often been seen as the escape for millions of people trapped in their homes, forcing brands and shops to ensure that they remain relevant and attractive among consumers' minds. And when things are slowly getting back to normal, we all will realize that the journey of customers is becoming more and more complicated – starting from product discovery and all the ways to their final transaction. People will switch between online and offline effortlessly throughout the shopping process. 
As such, it is a challenge for brands to learn how to treat online and offline shopping channels as complementary to each other instead of competitors. We can now be sure that O2O is already here and will continue to dominate retail marketing in the near future. 
This leaves room for 'shoppertainment' to come into play. The term refers to a phenomenon of commercial activities aimed at demonstrating, promoting, and selling products to customers through engaging activities that blend right into their everyday lifestyles. It can be as immersive and informational as you could imagine. The ultimate objective is to make shopping activities more entertaining, driving positive customer engagement and brand experience. 
To create a successful shoppertainment strategy, brands must include it into a part of a robust customer lifecycle optimization plan. By that, we mean marketers must think and see a big picture of the holistic customer journey. Social media tools such as TikTok, Instagram, Facebook, Twitter, Youtube and many live streaming channels must be utilized at their full potential to build strong engagement and personalization. 
AliExpress, one of the world's leading online shopping retail companies, has been training its own in-store salespersons to become professional livestreamers in a bit to further enhance their sales activities. Many other retail brands are gradually finding their ways to discover strategies to create a better connection between an in-store experience and e-commerce environment. 
In-game advertising is also one of the up-and-coming tools that brands turn to when it comes to omnichannel marketing techniques. The concept fits right into the heart of "shoppertainment", offering several key benefits to advertisers. 
This platform offers marketers an exciting opportunity to engage and interact with their prospect customers in a very entertaining and enjoyable style. In-game advertising allows brands to advertise directly within the gameplay in some of the world's most popular games in a seamless manner. Brands can also choose to drive sales through in-game coupons with real-world value. Through the power of in-game advertising, meaningful engagement between brands and customers can be formed.  
The good news is if you're not already using "Shoppertainment" as part of your marketing strategy, it is not too late to start inserting yourself into this emerging space. This concept might still be a few years away from peak popularity. But we can be sure that the need to build more engaging, consistent and entertaining customer experiences is already a top priority for all brands.  
As more and more of us are now using smart devices to consume media, which allow us to skip TV commercials, or paying for ad-blocking software, the question becomes "how does a brand get its message across to their target audience?".
Let's learn some of the key benefits than game reskinning can help your brand🡪 place the link here
Read More »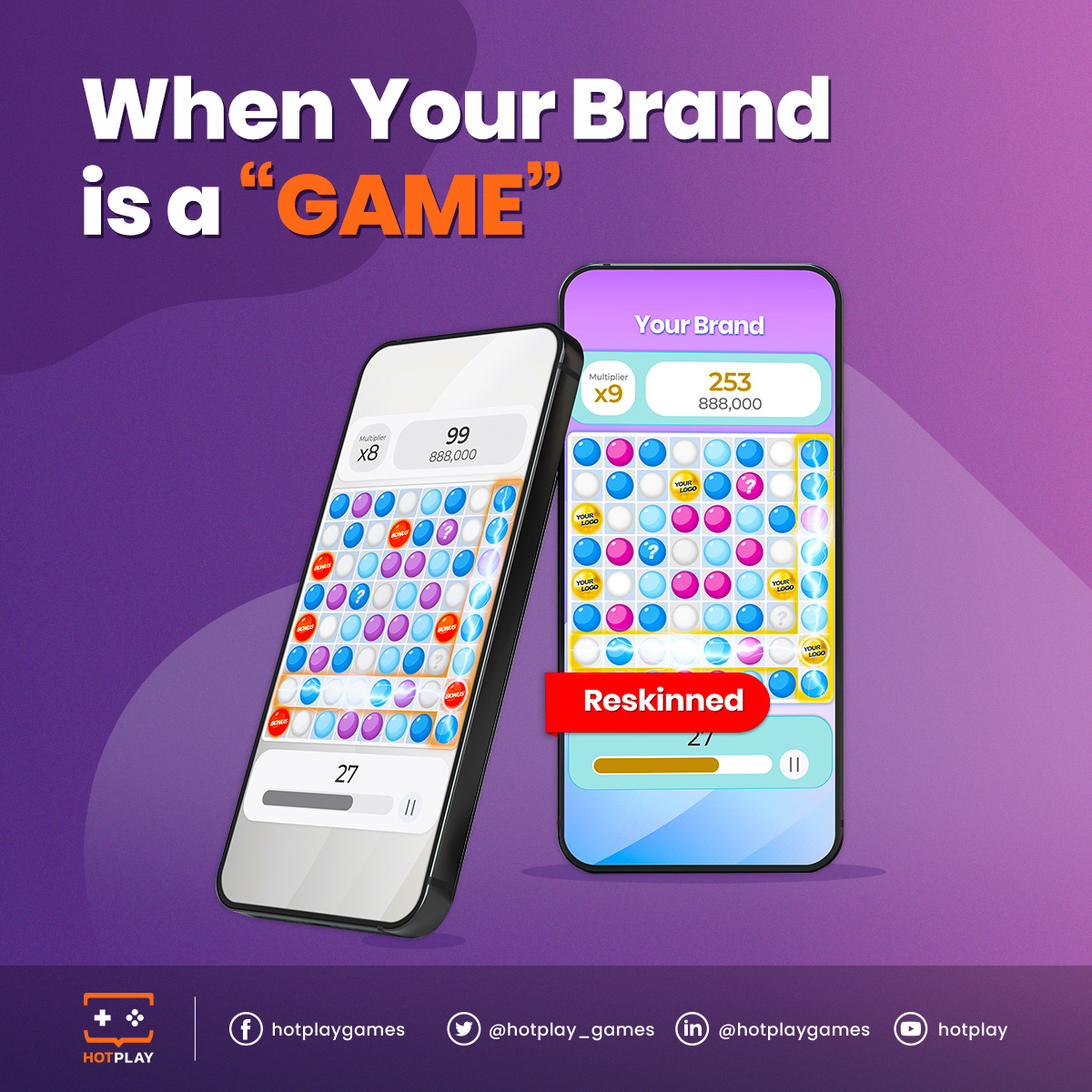 What if we can make our brand a 'game', and then keep people coming back to play over and over. Branded games are just a perfect solution for you.
Let's apply game design philosophy, throwing in tricks and techniques to keep your target audience engaged in a meaningful manner 🡪 place the link here
Read More »
Pandemic has fueled growth in the virtual world, and gaming is undoubtedly one of the beneficiaries. We have already seen big corporates jumped into the sector. But opportunities out there are not only for the big brands. Let's drive into why we think this is also the good time for small and medium-sized businesses to get their foot in the game. 🡪 place the link here
Read More »