We are approaching the holiday season once again, and all marketers and advertisers know how important this season is for the business opportunity. Billions of dollars are spent on a wide variation of holiday-specific marketing, hoping to take some share of the positive vibes – as we all know, people in general are spending a lot more than usual during this specific period.
However, similar to what we may have experienced last year, this holiday season is sure to still look unlike any other years prior to the pandemic. With COVID-19 still far from being over, people are finding new ways to discover what they want. The way they shop, buy and experience is different, and marketers must be creative to capture the return of pent-up demand.
Here's how in-game advertising can be added to your marketing strategy for the remaining holiday season.
In-Game Coupons: 
Advertisers can choose to use in-game coupons or in-game vouchers to give users real-world rewards during this shopping season. This type of activity has been proven to be effective in increasing sales transactions for both online and offline stores. It is also a way to create a better engagement between players and the branded products, encouraging them to return and keep playing the game. 
In-game coupon ads can be rolled out at a very competitive cost, as compared to coupon ads in other types of media such as social media. In-game's CPA or cost per collect coupon is also relatively low. Moreover, its usage fits right into the Online-To-Offline (O2O) trend, which many believe is going to be "the future of retail". Trying this thing out during the holiday period is a very good strategy.  
During the festive season, a lot of people will have more spare time and might spend more time playing games. Offering the right coupon for the products in which gamers are interested in, we can expect that many of them would not hesitate to visit the shop and redeem the reward in the real world. 
This whole journey would create some special connections and engagements between gamers and those branded products. Gamers would also enjoy challenging themselves via in-game quests in which they have to participate in order to obtain such incentives in getting their desired products. 
In-Game Display Ads 
Display ads, which can be integrated with in-game objects in a seamless manner, is another way that advertisers can choose to help promote their products. They are very simple to launch, yet effective for eyeballs reaching millions of game players. 
A common example would be virtual billboards that are embedded into the game environment which make the game feel more realistic. Sometimes, we refer to them as ad placements in natural contexts within games. During the festive season, advertisers can choose to promote some flash sales or special promotions which come with specific time frames via in-game display ads, this can excite gamers and incentivize them to purchase the products earlier or more than they might have planned.
In-Game Interactive Ads
Another way to do it is via in-game interactive ads which refer to anything that can encourage the target audience to interact with advertising, marketing or promotional activities. This type of ads is the future of advertising which can turn passive ads into a fun activity. Interactive ads could help brands tell stories in an interesting manner, enhance personalization and create lasting impressions for gamers. Advertisers can be extra-creative during the holiday period, adding features or fun activities to your ads can be entertaining. 
The benefits of IGAs are numerous and can be considered as one of the good tools to help advertisers stand out during this highly competitive holiday season. In-game ads will offer high engagement with audiences and create positive brand association in an innovative manner. We would not want any advertisers to miss such a golden opportunity. 
As more and more of us are now using smart devices to consume media, which allow us to skip TV commercials, or paying for ad-blocking software, the question becomes "how does a brand get its message across to their target audience?".
Let's learn some of the key benefits than game reskinning can help your brand🡪 place the link here
Read More »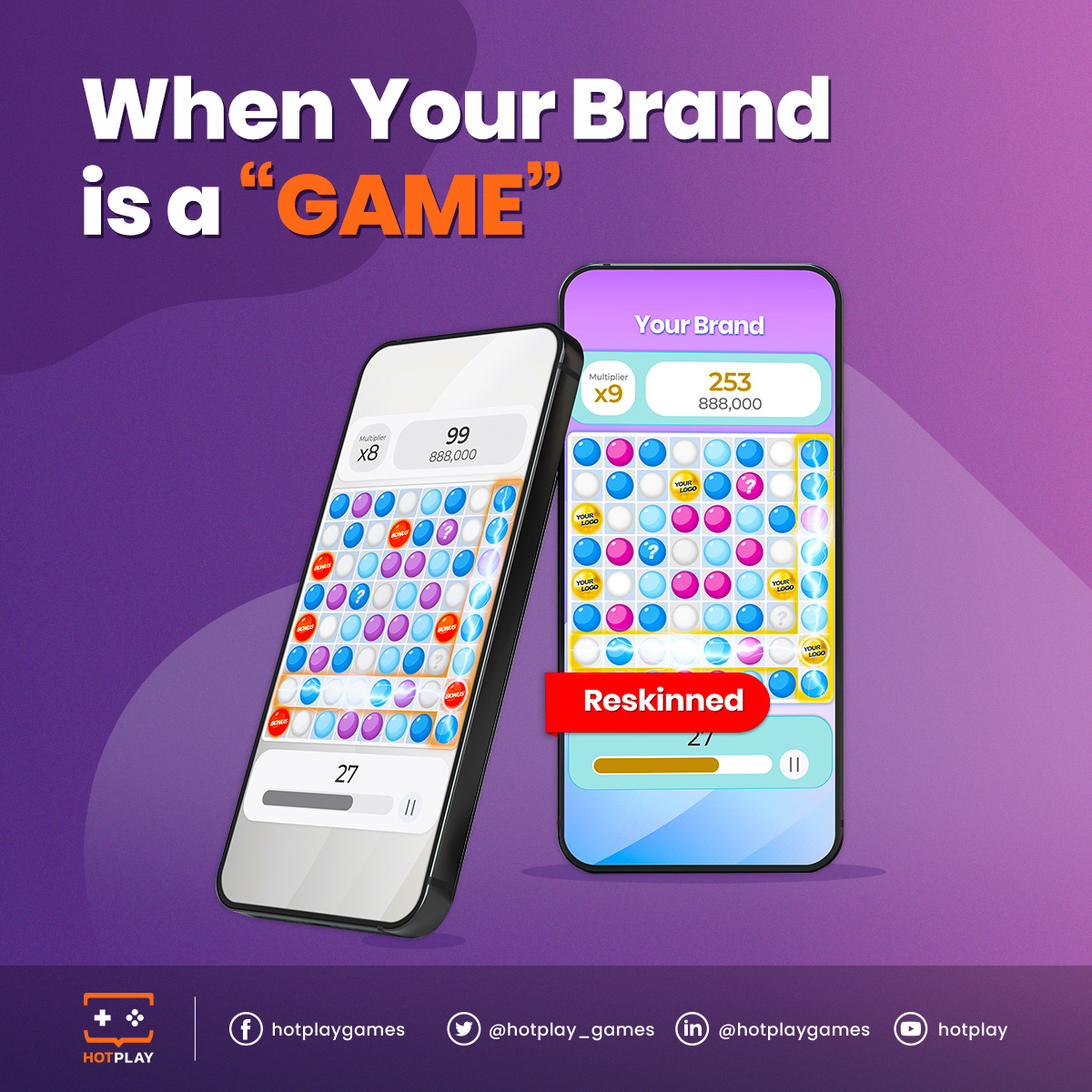 What if we can make our brand a 'game', and then keep people coming back to play over and over. Branded games are just a perfect solution for you.
Let's apply game design philosophy, throwing in tricks and techniques to keep your target audience engaged in a meaningful manner 🡪 place the link here
Read More »
Pandemic has fueled growth in the virtual world, and gaming is undoubtedly one of the beneficiaries. We have already seen big corporates jumped into the sector. But opportunities out there are not only for the big brands. Let's drive into why we think this is also the good time for small and medium-sized businesses to get their foot in the game. 🡪 place the link here
Read More »