HotPlay, one of the top tier players in in-game advertising ("IGA") industry recently announced its strategic partner with game development studio True Axion Interactive, branded virtual goods company GeerTM and iconic consumer brand and entertainment producer Atari®. This agreement promises to bring branded digital products to life within the video games. This strategic partnership is an important stepping stone which comes at the right time to create the right path towards a promising future for HotPlay.
The prospect of in-game advertising is under today's spotlight, as marketers are increasingly realizing the value in the medium that could reach out to a large group of diverse and engaged audience. The number of gamers in online gaming is growing at a phenomenal rate but what more interesting is underlying on the fact that many of them are already spending a jaw-dropping amount of money on virtual items. This potentially means that the untapped market is not only large in size but in also in value as gamer's willingness to spend is very high.
"This marks the beginning of a new era where players can express their digital identities using brands they love, where games will collaborate with brands to boost user engagement and revenues This is a place where brands can enter a new distribution channel in order to engage with younger generations," said GeerTM CEO Christian Ferri.
Additionally, one of the main driving forces that makes this partnership even more exciting is the underlying technologies, invented by HotPlay, which enable the dynamic and seamless placement of coupons into games. By integrating with HotPlay's API, game studios like True Axion Interactive can collaborate with brands and retailers to present coupons to their players without interfering with their game experience.
The first games to see the Atari-branded virtual goods — Evergleam Hill and Invictus— are original titles by True Axion Interactive.
True Axion Interactive, which is known to be the most capable game development studio in Southeast Asia, is leveraging on HotPlay platform to take in-game brand promotion to the next level. Advertisers can now deliver in-game special privileges digital coupons to gamers and their target audience can then convert them on both online and offline channels, heightening customer engagement with the brands they love.
"We have not seen anything like this before. This is a revolutionary marketing solution that harmonizes engagement between businesses and gamers, backed by strong technical capabilities from top tier players in the industry. I am very excited about what the future will bring", True Axion Interactive CEO and HotPlay Founder & Managing Director, Nithinan Boonyawattanapisut concluded.
As more and more of us are now using smart devices to consume media, which allow us to skip TV commercials, or paying for ad-blocking software, the question becomes "how does a brand get its message across to their target audience?".
Let's learn some of the key benefits than game reskinning can help your brand🡪 place the link here
อ่านต่อ »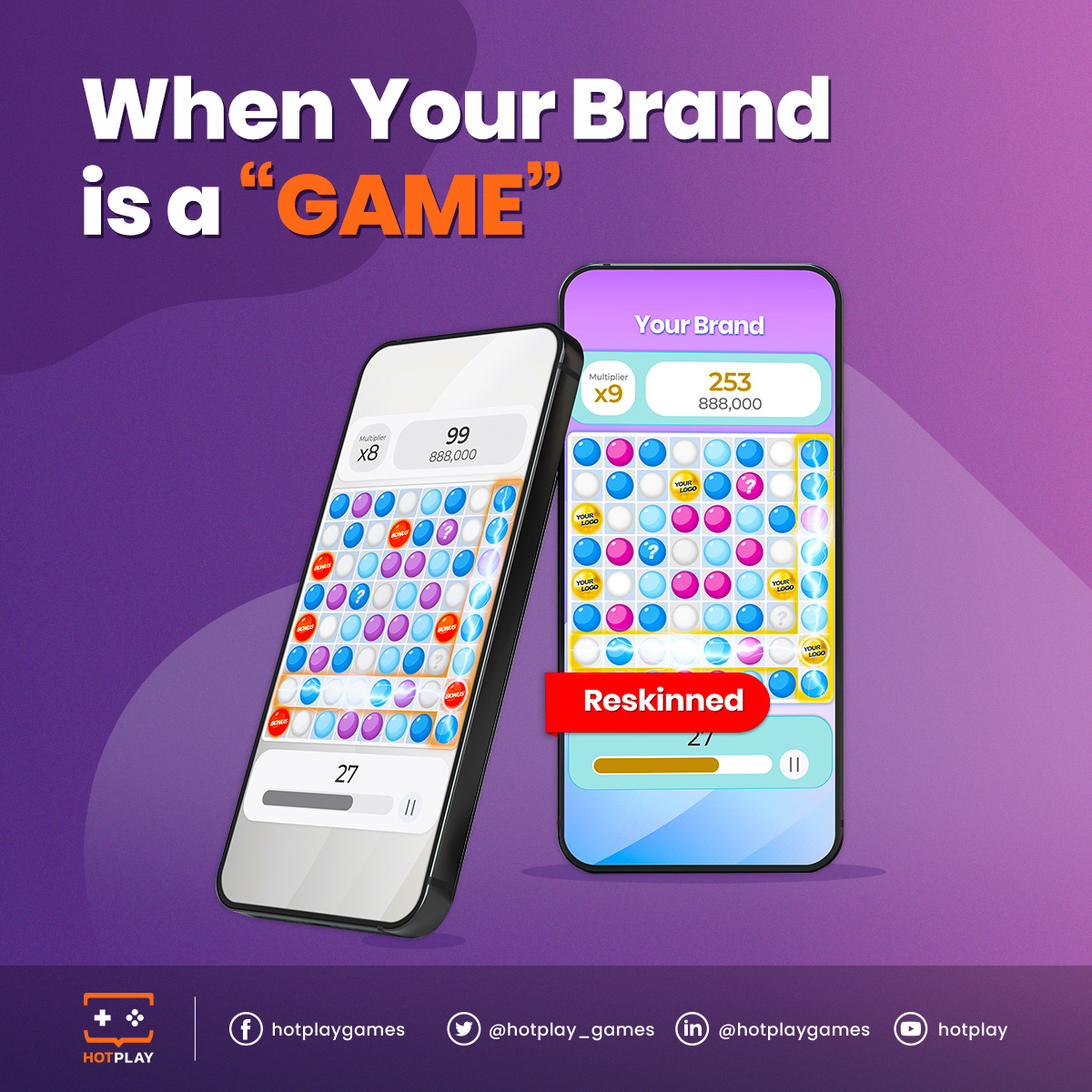 What if we can make our brand a 'game', and then keep people coming back to play over and over. Branded games are just a perfect solution for you.
Let's apply game design philosophy, throwing in tricks and techniques to keep your target audience engaged in a meaningful manner 🡪 place the link here
อ่านต่อ »
Pandemic has fueled growth in the virtual world, and gaming is undoubtedly one of the beneficiaries. We have already seen big corporates jumped into the sector. But opportunities out there are not only for the big brands. Let's drive into why we think this is also the good time for small and medium-sized businesses to get their foot in the game. 🡪 place the link here
อ่านต่อ »