Among many video game segments, casual games are one of the fastest growing categories. According to Statista, total revenue in the casual games segment is projected to reach US$18 billion in 2022. The segment is also expected to continue growing at an annual growth rate of 7 percent from now through 2026*. 
Unlike hardcore gamers that frequently play game and often willing to pay more to play, casual gamers tend to play to pass the time. Therefore, the size of the market is much larger, coupled with the rapid adoption of smartphones which can support gaming apps. As a result, we have witnessed a dramatic increase in the number of casual gamers around the world, especially over the past several years. 
The unique characteristics of casual games are revolving around their short session length and easy-to-start playing style. Gamers can hop in and hop out anytime of the day and several times a day. These characteristics make casual games very attractive for brands to take advantage of. 
Key benefits that casual games can bring to the table for brands are 1. Increase engagement with target audience 2. Reduce user churn rate and 3. Provide cost-effective solutions. Brands can use casual games to connect with potential customers for building brand recall and strengthening engagement. Casual games can be seen as an asset for brands that can be deployed in existing as well as new distribution channels which can help improve performance, time spent and the ability to retarget users.
Casual game players are usually being rewarded for their participation, which leads to further engagement. Rewards can be intrinsic or extrinsic, depending on the goals of each marketing communication and campaign. For example, "Butt a Move", which is an endless runner style game, having a very cute character keep running and collect rewards along the way. Or "Block Buster 2048" which is a simple puzzle game but can be fun and challenging. The game will ask players to combine blocks of the same number to form higher level of blocks. Brands can choose to partner with these types of casual games to further strengthen engagement with gamers and capitalize from in-game advertising and rewards. 
To elaborate, brands can use these games to inculcate the kind of value in which they want their customers to associate with them such as satisfaction, pride or discount. Or sometimes, brands can run specific in-game campaigns that offer a range of promotions depending on gamers' performance, which ultimately leads to eventual sales. This sometimes can be called as reward programs, whereby users play games and get points, then they can use these points to redeem prizes, either at the online stores or at the physical stores. 
Another way for brands to capitalize from casual games is to add some competitiveness while also making it fun and sociable among online communities. They can include leaderboard activity charts, showing competition results, allowing users to make a friendly challenge with their peers in the circle. 
At the end of the day, choosing the right games to engage is also important. The category which each brand belongs to also plays a part in this. The needs of an FMCG brand would be different from those of a fashion brand, therefore they might have to choose different types of engagements with casual games. Thus, brands should learn to formulate the right comprehensive strategy to cash a big win from the rising popularity of casual games. 
As more and more of us are now using smart devices to consume media, which allow us to skip TV commercials, or paying for ad-blocking software, the question becomes "how does a brand get its message across to their target audience?".
Let's learn some of the key benefits than game reskinning can help your brand🡪 place the link here
Read More »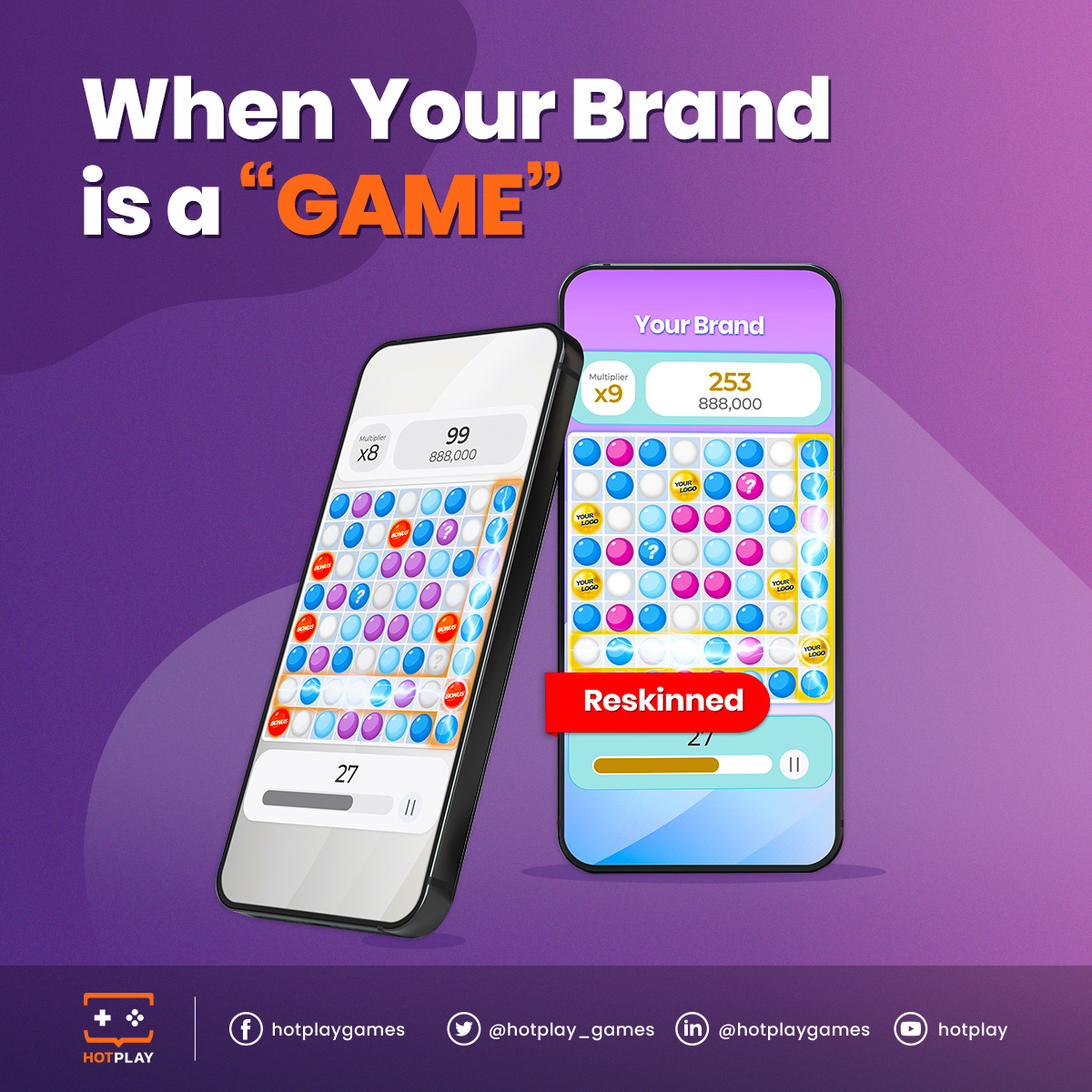 What if we can make our brand a 'game', and then keep people coming back to play over and over. Branded games are just a perfect solution for you.
Let's apply game design philosophy, throwing in tricks and techniques to keep your target audience engaged in a meaningful manner 🡪 place the link here
Read More »
Pandemic has fueled growth in the virtual world, and gaming is undoubtedly one of the beneficiaries. We have already seen big corporates jumped into the sector. But opportunities out there are not only for the big brands. Let's drive into why we think this is also the good time for small and medium-sized businesses to get their foot in the game. 🡪 place the link here
Read More »