It is unarguable that branding is one of the most important factors to any business's successes. With people believing in your brand, you can make your product sell for 10 times its actual value. This is because when consumers buy a product or service, they aren't just paying for a product or service; however, they are actually paying for the trust they give to your brand or in other word, they are buying what your brand stands for. For that being said, it is so important that "Brand image" is being designed to convey exactly what you want people to see or think of the 'brand'. Or to put it simple, your brand is built to be a true representation of who you are as a business. 
HotPlay would like to share with you 5 innovative ways to enhance your positive brand image: 
 1. Carefully Craft Your "LOGO" and Brand Component
Logo is as important as people say it is. Why so?  Because it is the first thing that people associate with your brand. Good logo grabs attention, makes a strong and long-lasting first impression. Logo is the foundation of your brand identity which would help separate your brand from competitors. Successful brands carefully crafted their logo and other brand components such as color, font, language usage and tone, and including emotion. We can all agree that many successful brands across all industries have done a phenomenal job on utilizing its logo namely McDonalds, Nike, Apple, Coca Cola and Google. By carefully communicating these visual aspects to your target customers, you would not only reinforce your presence as a business, but also the feelings or emotions that are associated with it.
2. Be Consistent
Consistency is the key to many good things and creating brand image is no exception. All your great efforts and budget spent on design, branding and marketing will be for nothing if you brand building is not consistent. Brands that carefully and methodically develop their values from the start would have a higher success in their marketing as compared to their competitors. It is imperative that you continue to keep pushing the brand image out there to customers and they will slowly develop recognition and connection to your brand.
3. Target Your Market
It would be no point if you are trying to sell/market something for the person who will never want to have it in the first place. This concept also applies to your branding. Before building a brand, one must be able to identify your target market in your business plan and tailor your brand image and its representation toward this specific market. Today's world of target markets has become much more sophisticated as compared to the past. Brands must develop and spend a considerable amount of time to set their market segmentation strategies. 
4. Make Your Presence on Social Media
Social media has become more than a part of life for everyone in the world. Therefore, building a positive brand image on social media is a "MUST". This may sound easy on the surface but to be able to excel on social media requires time, effort and solid execution plans. Once we know our target market and have our brand identity and style ready to display, then the next step is to start connecting with them. This is another way to enhance your positive brand image as the brand can easily communicate with consumers in a smart and creative way. Brand should choose to communicate by using the right channel/platform. These channels can be Facebook, Twitter, Instagram, Clubhouse, and including many popular online games. It is important for brands to remember that social media strategies are very dynamic which need to be monitored closely and readjusted from time to time.  
5. Optimize the Use of Digital Marketing
As we live in a smartphone era, where when a new name/word comes up, people would automatically go on to search about it through their smartphone. As a result, your online presence is equally (if not more) important to your physical presence. Brands that wish to enhance a positive brand image must make great use of digital marketing to excel in this internet era. There are many ways that you can pick and choose in terms of digital marketing, gaming is one of them. As we earlier mentioned, gaming is one of the fastest growing platforms that many of your target audience are in. HotPlay is the next generation ads that can take in-game advertising to the next level. We provide an alternative way to enhance your brand image. 
As more and more of us are now using smart devices to consume media, which allow us to skip TV commercials, or paying for ad-blocking software, the question becomes "how does a brand get its message across to their target audience?".
Let's learn some of the key benefits than game reskinning can help your brand🡪 place the link here
Read More »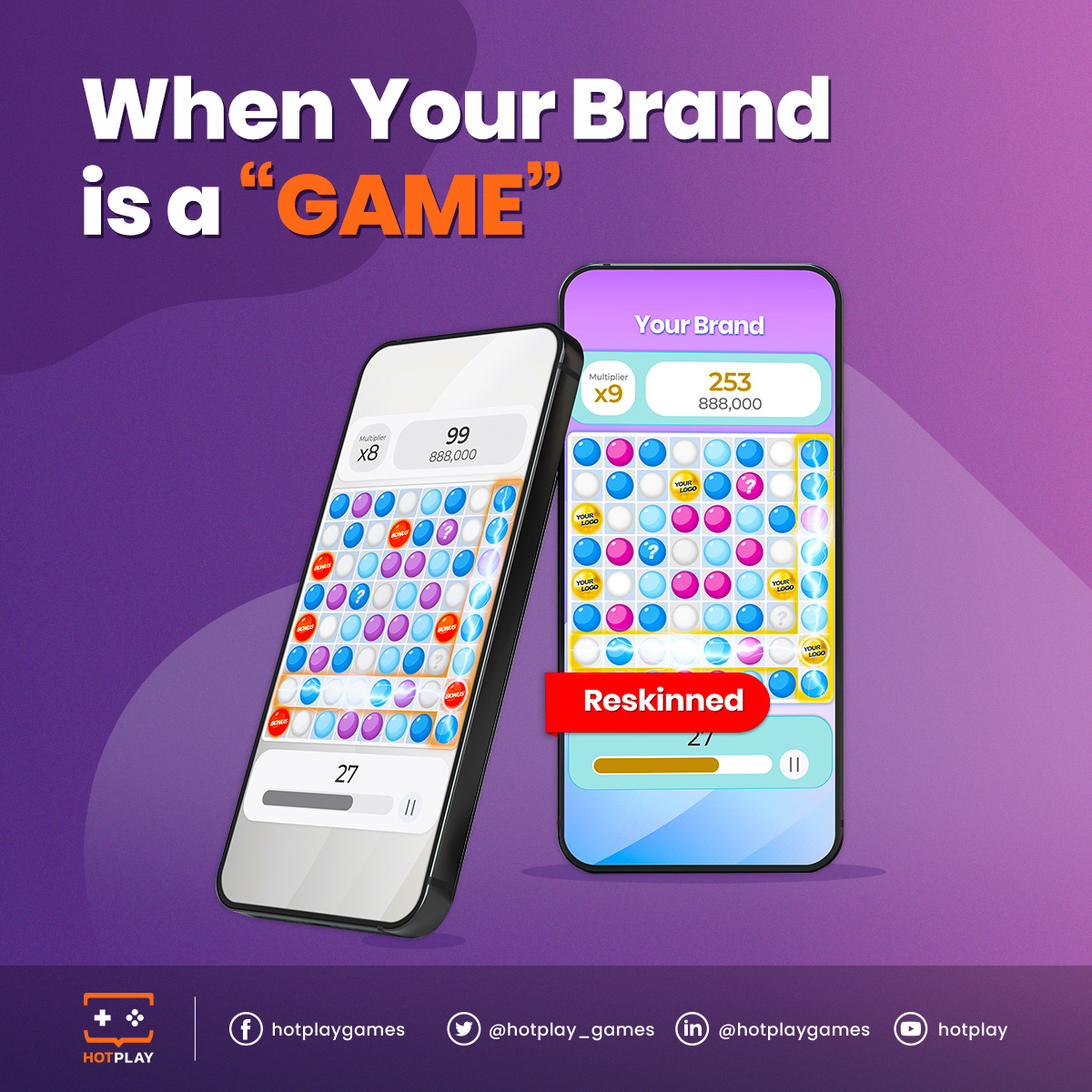 What if we can make our brand a 'game', and then keep people coming back to play over and over. Branded games are just a perfect solution for you.
Let's apply game design philosophy, throwing in tricks and techniques to keep your target audience engaged in a meaningful manner 🡪 place the link here
Read More »
Pandemic has fueled growth in the virtual world, and gaming is undoubtedly one of the beneficiaries. We have already seen big corporates jumped into the sector. But opportunities out there are not only for the big brands. Let's drive into why we think this is also the good time for small and medium-sized businesses to get their foot in the game. 🡪 place the link here
Read More »